April 30, 2009 at 10:15 pm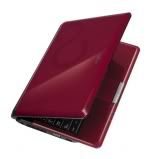 Fujitsu Siemens introduced a new 10.1-inch netbook to the Japanese market last week called the LOOX M. Judging from a press release by Fujitsu Asia Pacific, the same netbook will be marketed under the M2010 name across other regions. This would make sense as their previous netbook was known as the M1010 in most markets.
The M2010 specifications seem identical to the LOOX M, and it even sports the same infinity motif on the lid. The M2010 comes with a 10.1-inch LED-backlit display with a resolution of 1024 x 576 pixels. It will be powered by a 1.6GHz N270 Atom CPU (a 1.66GHz N280 Atom option will be available from June) and Intel 945GSE chipset. It will also come with 1GB RAM (2GB max) and a 160GB hard-disk drive. Other features include Bluetooth 2.1, a 1.3MP webcam, three USB slots and a 4-in-1 card reader. Read more
April 21, 2009 at 1:45 pm
Exactly a month ago today, we reported on a rumour that Fujitsu was about to launch an update to its 8.9-inch M1010 netbook. It looks like it was true as Fujitsu Siemens has today announced a new 10.1-inch netbook called the LOOX M. The LOOX M definitely looks attractive and appears to have an incomplete infinity symbol on the lid (the same as the artist impression in our previous report).
The specifications, however, do nothing to distinguish from the norm. Under the hood you will find a 1.6GHz N270 Atom CPU and 945GSE Intel chipset. It will also come with 1GB RAM and 160GB of storage. Other features include Wi-Fi, Bluetooth 2.1+EDR, three USB 2.0 sockets, 1.3MP webcam and a multi-card reader. The LOOX M is retailing now for 59,800 Yen ($610, €470, £420) and comes in red, black and white colours.