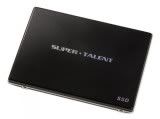 Two companies have announced solid-state drive upgrades for different netbook lines. Active Media has some new SSD drives for the Dell Mini 9 netbooks. Its new half-Mini PCI-Express SSDs offers sequential read speeds of 82 MBps and sequential write speeds of 38 MBps. The modules measure just 2″ x 1.2″ and should be able to hold data for up to 10 years. Active Media charges $65.95 for a 16GB SSD and $119.95 for the 32GB version, quite a bit cheaper than a similar drive from Runcore.
Another manufacturer, Super Talent, has also announced new SSD upgrades for the Dell Mini 9 and Asus Eee PC. The Eee PC SSD upgrades, dubbed SATA Mini 2 PCIe solid state drives, will be available in two flavours, one with MLC and one with SLC memory. The MLC based ones will be available in 16, 32 and 64GB capacities and will offer read and write speeds of up to 150 and 100MB/s. These will be backed by a two year warranty.
The SLC have a bit higher read and write speed of up to 170 and 130MB/s, and in addition to the three year warranty, will be available in 16 and 32GB capacity versions. The Eee PC MLC SSD MLC upgrades with capacities 16, 32 and 64GB will be priced $85.99, $125.99 and $219.99, respectively.
The Dell Mini 9 SSD upgrades will be available as a Half Mini and Double Wide Half Mini PCIe and will also be available with either SLC or MLC memory chips. Both will use IDE interface, and will be available in capacities of up to 128GB, presumably for the MLC Double Wide version. The MLC models will offer speeds of up to 80/40 MB/s while the SLC will top at 80/50 MB/s. The Dell Mini 9 upgrade MLC version upgrades will have price tags of US $74.99, $109.99, $199.99 and $379.99 for the 16, 32, 64 and 128GB versions.