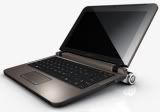 Mobinnova has unveiled the élan smartbook (or netbook if you prefer) which is an 8.9-inch device that is powered by Nvidia's Tegra platform. As mentioned in the previous Tegra post, there are numerous benefits to the platform including an 'always connected' environment, HD video, flash player support and superb battery life.
The Mobinnova élan doesn't disappoint here, offering 5-10 hours of continuous 720p HD video playback in an ultramobile package that weighs just 836g (1.84lbs) and is just 0.8-inches thick [Dimensions: 9.1 inches (232mm) x 7.3 inches (186 mm) x .8 inches (20.5 mm)].
Like a typical smartbook device it connects instantly to a 3G wireless network when booted up and offers Adobe Flash player and 3D graphics support. The élan operates coolly and quietly thanks to its fanless design and has frugal power draw. It draws as little as 50mW during typical operation and 150mW during video playback.
Laptop Mag managed to get some hands-on impressions with the Mobinnova élan and came away impressed. They felt it had a good sized keyboard despite the screen size, although the touchpad was a tad small. The smartbook rums Windows CE 6 and has a small Nvidia dock at the bottom of the screen. This dock includes animated icons of programs that are installed on the system. Whilst the screen isn't HD, a 1080p trailer was played back without any judder.
Mobinnova is also showing the T8 at Computex, which operates using the same platform but has a 10.1-inch touchscreen, , GPS, and HDMI and VGA video output. Laptop Mag has a video of the Mobinnova élan that's worth checking out, we've also included hands-on videos from Engadget and NetbookNews below too.