July 13, 2009 at 10:58 am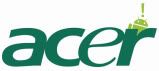 Acer will launch a dual-boot netbook with both Android and Windows XP in August 2009 according to a report from Digitimes. We previously heard that this netbook would be released in the third quarter, so the timing does make sense if true.
Don't expect the netbook to be cheaper than XP-only models, as licensing fees for XP still need to be paid. Acer has already said that if there is enough demand, it will launch an Android-only model, which would drop the price by around $25.
The move is likely to benefit ODMs Quanta and Compal Electronics, who are both expected to share in the manufacturing of this model. In related news, both Asus and MSI have reaffirmed plans to launch Android netbooks although not until 2010 according to the report.