June 25, 2010 at 11:02 am
Intel is preparing a fully native x86 version of Android 2.2 (Froyo) that it expects to ship to developers in the next two months. The company is hoping that this will ignite sales of Atom-powered netbooks and tablets.
Android was originally written for ARM processors, like those found in most current smartphones. This has meant Intel has had to play catch-up to port Android to x86 architecture.
"Our expectation is that (native x86 Android) will be based on the Froyo release and will be available this summer to developers" Renee James, Intel's senior VP for software and services said.
Via APC.
June 16, 2010 at 11:17 am
Intel's upcoming 1.5Ghz dual-core N550 Atom processor is due to land in devices in the second half of the year. There's no doubt you'll see a performance increase from current Pine Trail netbooks, but by just how much? Well Notebook Italia conducted some tests at Computex and shared the results.
They conducted some 7-Zip benchmarks comparing the performance against other Atom processors such as the Atom 330 and Atom D510 dual-core nettop processors along with the Atom N450 and Intel Core 2 Solo SU3300. Performance was broadly in line with the Atom D510 Pine Trail nettop processor but was nearly double that of the single-core N450 Atom processor found in most new netbooks. Read more
When Intel launches Atom processors it gives a suggested system price to OEMs that plan to use that processor. Fudzilla is reporting that the guided price range for netbooks using the upcoming 1.5GHz dual-core N550 Atom processor will be between $349 and $399.
Furthermore, Intel will be restricting dual-core netbooks with display sizes between 7-inches and 10.2-inches. The recommended configuration spec includes 1GB DDR3 memory and a 250GB HDD or 20-30GB SSD. We are expected to see the first dual-core netbooks at the upcoming Computex show, with a retail launch during the third quarter.
Update: It looks like Intel is lifting panel restrictions for the N550. Therefore, 11.6-inch and 12.1-inch netbooks will be able to run the N550 Atom.
Via Fudzilla.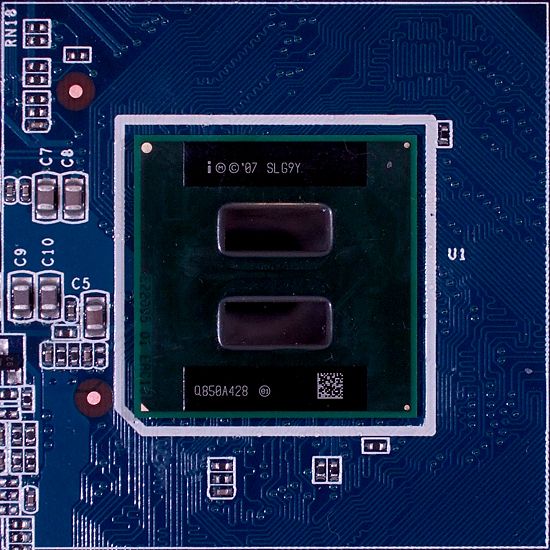 Intel will launch the dual-core N500 Atom processor series during the third quarter of this year. The first CPU out of the block will be the 1.5GHz dual-core N550 Atom. It will support hyper-threading and come with 1MB total L2 cache (2 x 512KB per core).
The TPD (thermal power dissipation) for the N550 is 8.5W, which is around 2W higher than the single-core 1.83GHz N475 Atom. More detail on these new chips should be expected at Computex in a few weeks time.
Via Fudzilla.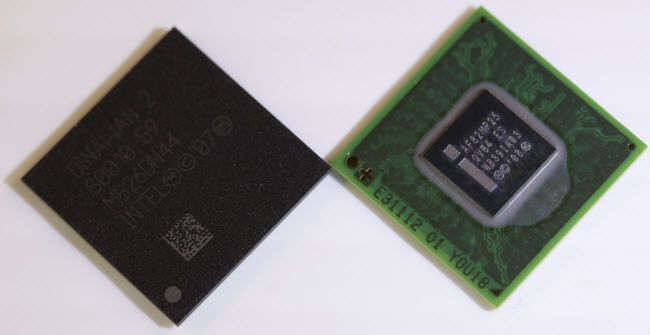 Intel has formally announced details on its Moorsetown platform in the form of Z6XX Atom mobile processors. The new 45nm chips have clock speeds ranging from 1.5GHz to 1.9GHz and will include Intel GMA600 3D graphics, display controllers and up to 2GB of memory onto a single SoC (system-on-chip).
These new chip use 50x less idle power, 20x less audio power, and 2-3x reductions in browsing and video playback power consumption compared to the older Z5XX Atom (Menlow) processors. In theory, this means smartphones, tablets and smartbooks running the new platform will be capable of 1080p video, desktop-style multi-tasking and long endurance times. Read more
April 26, 2010 at 8:06 pm
A new version of Toshiba's popular NB305 netbook will launch with Intel's new DDR3-enabled N455 Atom processor along with 1GB of 1066MHz DDR3 RAM. The Toshiba NB305-10F has been spotted on the official Toshiba France website complete with a list of specs.
Other specs remain the same. It will come with a 10.1-inch (1024 x 600) display, 250GB HDD and Windows 7 Basic. The exact launch date for the new NB305 is unknown but it will launch with a price around the €350 mark.
Via Netbook Italia.
April 26, 2010 at 7:52 pm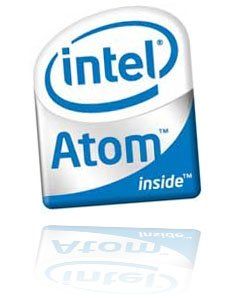 There's no doubting that Intel has a dual-core netbook Atom part on the horizon, especially given that Intel's chief recently confirmed the rumours. Digitimes is reporting that Intel will launch the dual-core Atom N500 Atom series in June along with releasing details on Intel's third Atom platform.
The Asus Eee PC 1215N will be one of the first dual-core Atom N500-powered netbooks when it launches early in the third quarter. It will also start to prepare the DDR3-enabled N455 and N475 Atom processors. These chips were seen running in the ASUS Eee PC 1018P, the company's new flagship 10-inch netbook. No release dates for these netbooks have been announced so far.
April 22, 2010 at 11:10 am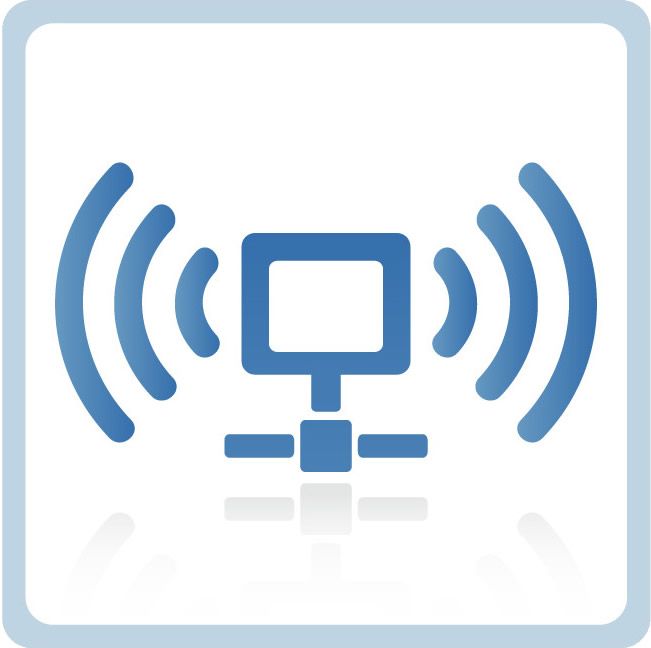 Intel's next major Atom platform, codenamed Cedar Trail, will bring with it a host of improvements over existing Pine Trail netbooks. It will have better HD video playback capabilities and, according to Fudzilla, will also feature 1080p Intel Wireless display 2.0 support.
This will give you the ability to stream HD video content directly to your TV, all over the air. An adaptor will be needed on the receiving end, such as the Netgear Push2TV adaptor, but apparently it works like a charm. This is expected to be included in H2 2011 or at launch of the Cedar Trail Atom platform.
Fudzilla also says that Cedar Trail will support a number of open source operating systems including Google Chrome OS and Meego (the collaboration between Intel and Nokia).
April 19, 2010 at 6:00 pm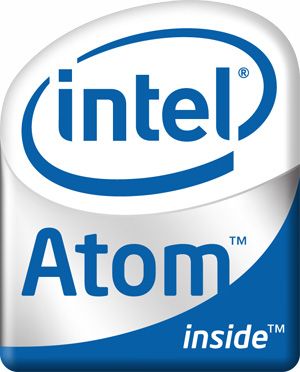 We already know that Intel is planning to announce a new dual-core Atom processor for netbooks in Q2 2010, although we were lacking details. Now Fudzilla is reporting that at least one of the SKUs will be clocked at 1.50GHz.
This 45nm part will have a TDP of 8.5W for the processor and graphics. This could mean that netbooks sporting dual-core Atom processors may have a TDP just 20 percent higher than netbooks with single-core Atoms. Read more
April 14, 2010 at 7:57 am
Intel reported its strongest ever first quarter results yesterday, with net profit up by 288 percent to $2.4 billion. Much of this growth was attributed to high-end notebook processors, with Atom processors sliding the other way, declining by 19 percent to $335 million.
The numbers highlight that there has either been stockpiling of Atom processors in previous quarters or that netbook sales are on a downward trend. As Intel has raised its margin guidance for the year to 62-66 cents (from 58-64 cents), it clearly expects the lower-margin Atom CPU to not sell as strongly. Read more
April 7, 2010 at 11:06 am
Intel is planning to launch a DDR3 refresh of its Pineview-D processor line in mid-June according to Fudzilla. The Atom D425 (single-core) and Atom D525 (dual-core) are an update on the current D410/D510 processors found mostly in nettops.
The Atom D425 is believed to run at the same clock speed as the D410 (1.66GHz), but the dual-core D525 will get a speed boost to 1.8GHz, an improvement over the 1.66GHz clock speed in the D510 Atom. This new processor part has a TDP of 13W, same as the old one.
Update: We managed to get hold of a chart that shows both processors. It's a few weeks old so some of the data may be out of date. For example, you may notice that the clock speed of the D525 is listed at 1.66GHz instead of 1.8GHz. See it after the break.
Update 2: Fudzilla is saying the single-core D425 will run at 1.8GHz too. Read more
Intel may be working on a dual-core Atom processor specifically for netbooks according to French site PC Inpact. This would be a departure from the current situation where all netbook Atom chips are single core and select desktop Atom parts are dual-core, like the 1.66GHz Atom D510 Pine Trail processor.
The site says that these new dual-core chips will use the Atom N500 naming structure, although the exact model names are unknown right now (if they exist at all). This would be great news if true, although I wouldn't hold your breath. Any such chip would surely potentially eat into Intel's higher-margin ULV line-up. Read more
February 27, 2010 at 12:21 pm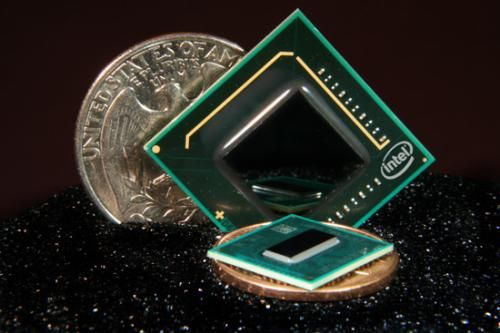 The existence of the faster 1.83GHz Intel N470 Atom Pine Trail processor has not exactly been a secret, however Intel has never made an official announcement on the Pineview CPU. In what appears to be an early leak from Intel, the processor has been formally announced over on Intel's Chip Shots press release page.
There's very little information and nothing we didn't already know. The single core Atom processor runs at 1.83GHz, with 512k of L2 cache and DDR2-667 support. The release is dated March 1 2010 and says that several systems sporting the new processor will be released "over the coming months". Expect to see quite a few of these at CeBIT next week. The (short) press release is attached after the break. Read more
February 18, 2010 at 9:38 pm
Intel may be set to launch a replacement of the Atom Z series of processors according to PC Watch. The Atom Z CPUs are found on a number of netbooks including the Sony Vaio P, MSI Wind U115 and Asus Eee PC T91MT. Intel had already announced Moorestown, the successor to Menlow that includes the Atom Z series, as part of its MID/smartphone platform.
Rumours suggest that Intel may be launching a new version of Menlow called "Menlow Plus" or "Menlow Refresh" with clock speeds faster than 2GHz. However, another rumour suggests that Intel is working on a Moorestown version for PCs dubbed Oak Trail. It's all rumours for now but we'll keep you posted with any developments.
Via NetbookNews.de.
January 27, 2010 at 10:24 pm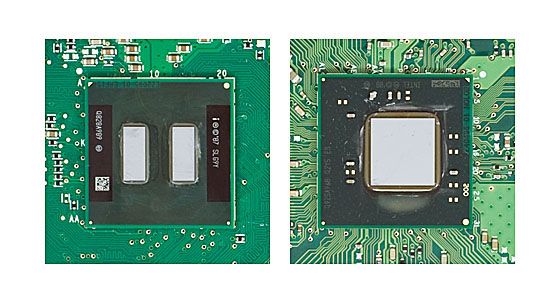 Intel's launch of the Pine Trail Atom platform left some people wanting. Whilst the power improvements were clear to see, the speeds were no faster than Intel's Diamondville processors (N270/N280 Atom). Anandtech has a theory why this was the case.
As we know, Pine Trail is built around a two-chip platform that incorporates the memory controller on-die with the actual processor (along with GMA 3150 graphics). This move produced a big boost in performance for other platforms like the AMD K8 and Intel Nehalem with a big drop in memory latency. Read more