June 19, 2009 at 10:53 am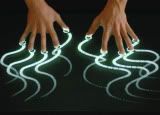 There is no doubt that a number of manufacturers are planning to release touchscreen netbooks/notebooks in the fourth quarter, coinciding with the Windows 7 launch. From previous reports, we have heard that a number of panel manufacturers will ramp up production in the second-half of the year.
We are now hearing that Cando, which is a subsidiary of AU Optronics, has landed an order to supply 12.1-inch capacitive multi-touch panels to Acer, HP and Lenovo. According to Digitimes, these panels will start to ship in August, which could mean a year-end launch date for some of these models, although a H1 2010 release is more likely. Cando is the first touch panel manufacturer to receive certification or Windows 7 compatibility.
In related news, EETI (Egalax_empia Technology) is pushing for Windows 7 certification for 10.1-inch and 11.6-inch touch-panels. It is currently sampling touch panels based on analogue matrix resistive (AMR) and projective capacitive technology. The focus for Windows 7 netbooks and mini-notebooks will be on display sizes between 10 to 12-inch screens. It sees Windows 7 certification as a big driver to gain orders.

EETI (Egalax_empia Technology), the Taiwan-based touch-panel supplier, will start shipping 7 and 12-inch capacitive touch panels in the second half of this year, according to its company president Mei Tsai. We are already starting to see a number of netbooks using touchscreen panels including the Asus Eee PC T91GO, the Touch Book from Always Innovating and Gigabyte's TouchNote M1028 which was unveiled yesterday. However, the touch-panel technology currently used is resistive. The move to capacitive panels will allow multitouch gestures (such as 'pinching').
My guess is that we're unlikely to start to see any netbooks with capacitive screens until the end of the year, maybe tied in with the launch of Windows 7. Microsoft has spoken of multitouch, being one of the unique selling points of Windows 7. It is likely to be the more premium netbooks that sport these panels at first, but what better way than to tie in with the Windows 7 launch. We'll keep you posted.