March 1, 2010 at 12:42 pm
Lenovo's Ideapad S10-3t 10-inch convertible netbook has seen its first review courtesy of Laptop Mag. For those hoping this may be some dream machine with a multi-touch display coupled with Intel's recently announced 1.83GHz N470 Atom processor, you're in for a disappointment. Two of the biggest criticisms the S10-3t faced related to poor battery life and sluggish performance.
The 4-cell battery lasted just three hours and 12 minutes in its custom battery test, around half of the netbook average. An 8-cell battery is quoted to last 7 hours and should be available soon, although pricing is unknown right now. Whilst they found the display to be bright and responsive, performance was sluggish. The processor had trouble keeping up with the (poor) bundled touch apps. The tiny touchpad was also another negative. Read more
February 16, 2010 at 3:39 pm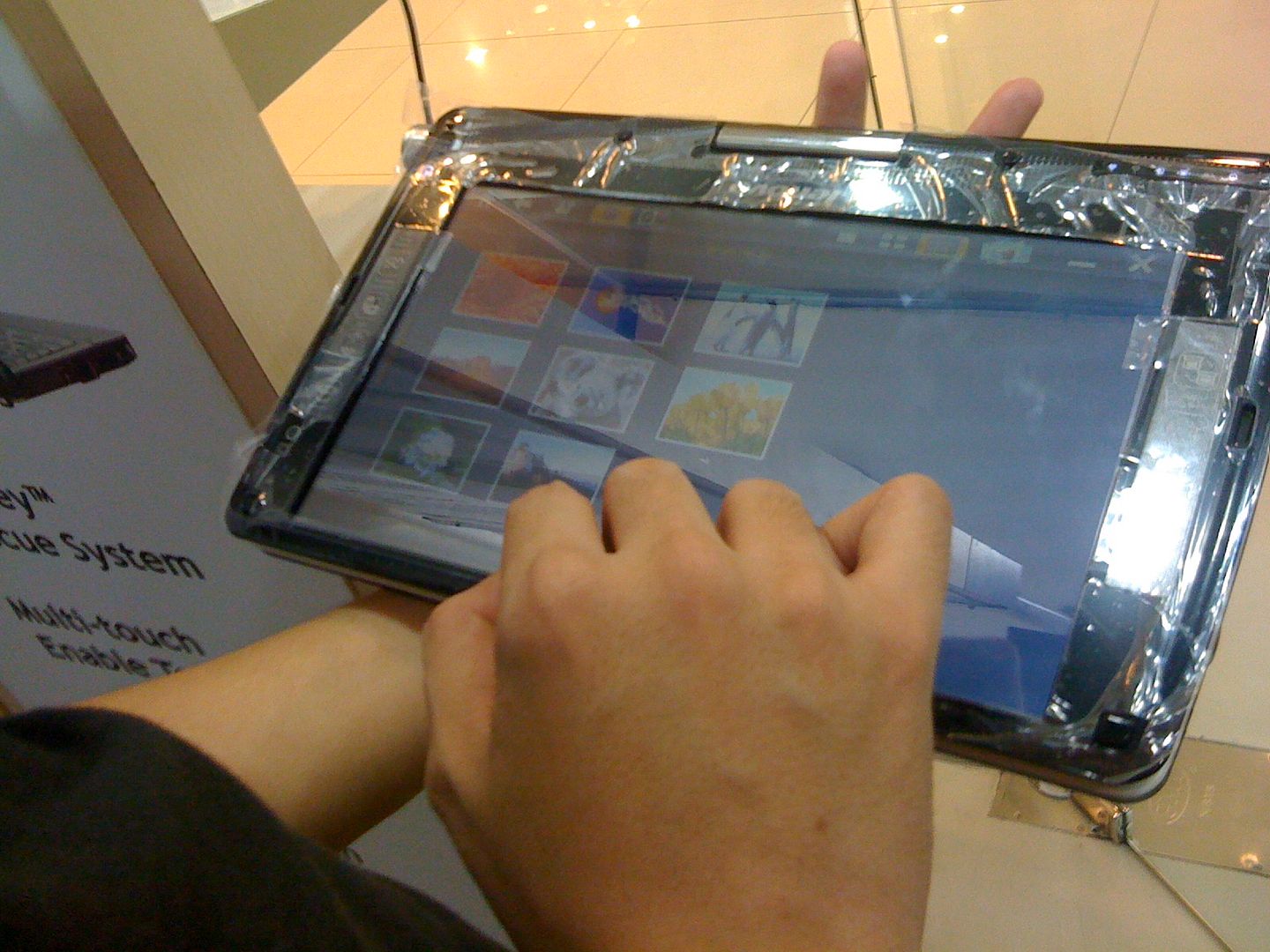 The 10-inch Lenovo Ideapad S10-3t convertible netbook is starting filter through into consumer's hands. Early impressions cite good build quality, a strong swivel, a comfortable keyboard and nice aesthetics overall. Some of the negative points include touchscreen lag when navigating Windows 7, an 8-cell battery that juts out of the back and a small palm rest area.
Upgrading components should be easy as the bottom panel can be removed by taking out just a few screws. Once opened, you have access to the hard-disk drive, two RAM module slots, a SIM card slot as well as a free mini PCI-E slot. Battery life is also reasonable, with 7 hours of usage in the 'Balanced' mode including Wi-Fi and Bluetooth turned on. All in all sounds like a good model, although I'm still not too keen on that large protruding battery.
Via EeePC.net and HGGadgets (via Netbooked).
February 13, 2010 at 7:06 pm
The Lenovo Ideapad S10-3t is the company's flagship convertible netbook. It is armed with a 10-1-inch multitouch capacitive display, either a N450 or N470 Atom processor, up to 2GB RAM and a 320GB HDD. Whilst we've heard little information since its release, the guys over at NetbookNews.de have shared some unboxing pics that gives us a closer look at the device.
The first thing you notice is the very large battery protruding from the back. It's not attractive but if it manages to deliver decent endurance then I'm sure people will put up with it. The touchpad also includes integrated mouse buttons, something I'm not too fond of, but I imagine this was done to keep the size manageable. Check out a few pictures for yourself after the break.
Update: We have also attached a video unboxing from NetbookNews after the jump. Read more
January 18, 2010 at 8:13 pm
Intel hasn't officially announced any details regarding its 1.83GHz N470 Pineview Atom processor, however at least one netbook is now on sale sporting the new CPU. The Lenovo Ideapad S10-3t convertible tablet is on sale in the US (with N470 Atom) for $649 and is shipping in 9 business days. It comes with a 10-inch multitouch display.
This puts it at $100 more than the N450 Atom-based S10-3t. However the more expensive SKU does get you Windows 7 Home Premium, 2GB RAM and a 250GB HDD as standard. The cheaper version comes with W7 Starter, 1GB RAM and a 160GB HDD. This could mean other netbooks sporting the faster Pineview processor are likely to be available soon.
Via Netbooked.
January 9, 2010 at 9:13 pm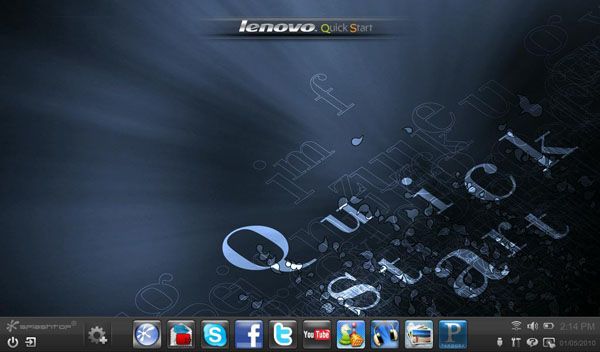 Splashtop has announced that version 2.0 is now official. The new features includes even faster performance, touch optimisation, better 3G connectivity, a redesigned application dock as well the ability to customise the desktop.
Other features include instant search that allows you to search even before opening the browser and a visual navigation of browsing history. The first netbook to feature Splashtop will be the Lenovo Ideapad S10-3t convertible netbook.
Via EeePC.net.
January 6, 2010 at 7:59 pm
Lenovo's premium offering in the 10-inch netbook space, the Ideapad S10-3t has been given the hands-on treatment by a number of publications. As a quick reminder, the S10-3t sports a 10-inch multitouch capacitive display. It comes in a convertible tablet form-factor that means it is likely to go head-to head with the Gigabyte T1028 and upcoming Asus Eee PC T101MT.
The $499 convertible netbook has a responsive touchscreen and the screen will adjust whilst flipping around thanks to an inclusion of an accelerometer. It's thicker and heavier than the Ideapad S10-3, but that's to be expected given the hinge mechanism and thick display. Check out some video hands-on impressions of the device from Engadget, Liliputing , JKKMobile and GottaBeMobile below. Read more
January 3, 2010 at 12:46 pm
We have been informed that Lenovo is indeed set to announce the Ideapad S10-3t and S10-3 netbooks at CES next week. That's not too surprising given the leaks we have already seen, but we also have in our possession first details on technical specifications, pricing and availability.
Lenovo's third generation of netbooks will be headlined by the Ideapad S10-3t. This convertible tablet/netbook will boast a 10.1-inch multitouch capacitive display. As with other convertible tablets, the display can swivel by 180 degrees to form a touch tablet. Lenovo claims it is built with its NaturalTouch fingertip touch screen technology, versus pressure touch technology. But surely this is how all capacitive displays work? The picture below is the first of the Ideapad S10-3t. Read more
December 23, 2009 at 9:44 am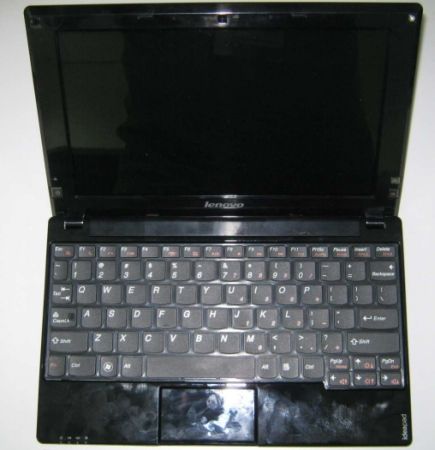 Lenovo is planning to announce its third-generation of netbooks at CES in January. The new Intel Pine Trail models include the Lenovo Ideapad S10-3 as well as a new convertible tablet model called the S10-3t (I imagine 't' stands for touch here).
Both netbooks will have 10.1-inch displays and be powered by a 1.66GHz N450 Atom Pineview processor Windows 7. It will come with Wi-Fi as well as options for 3G and GPS. We have already seen the Ideapad S10-3 before when it passed through the FCC, although we've not yet laid eyes on the S10-3t convertible netbook. Both devices will come with full-sized keyboards according to the DigiTech report. I'm sure further details will be forthcoming very soon.
Via JKKMobile.