Dell is looking to add a TV Tuner option to its Dell Inspiron Mini 10 netbook this summer according to Engadget. The tuner will cost roughly $50 and will also include an external antenna. The few channels that they saw using the tuner were of good quality. This TV Tuner is one of the options that we were expecting at some point, judging from a leaked internal Dell roadmap. Other options that we have already seen include a high-res display, 6-cell battery and Linux Ubuntu.
Engadget also managed to get hands-on with Dell's latest Mini 10v netbook. It seems that the lower price means a few compromises from the current Mini 10. Gone is HDMI, which is replaced by a VGA port. Additionally, the Mini 10v does not have a flush display found in the Mini 10. Impressions of the 6-cell battery also weren't favourable, adding considerable bulk to the back of the netbook. For some reason, the TV Tuner option won't be available on the 10v unfortunately. So there you go, the Mini 10v is much cheaper than the current Mini 10, but that is at the expense of quite a few trade-offs.

In a move reminiscent of Lenovo's request for feedback on what you think a Thinkpad netbook should look like, Dell has taken a similar route. In a post on the official Dell blog, it is asking the public, "What would you like to see in future generations of Dell netbooks?"
It is keeping things very open and looking for thoughts on form factor, operating system, battery life and HD capability among other things. Dell is looking to stay in touch with market trends and for this they should be commended. Some of the requests posted so far include booting from a SD card, having a GPS option, touchscreen displays, edge-to-edge keyboards and something that should be relatively easy to fix, "Ubuntu price must be cheaper than XP price with same config".
"Certainly, we like to focus on topics that people are passionate about and netbooks happens to currently be one of those topics," a Dell spokesman said. " We look forward to what the community has to say and where it might lead us in the future."
If you want to add your voice to the chorus then just head over to IdeaStorm. You can also post your thoughts to this Twitter channel. So, what would you be looking for in future Dell Minis?

Dell has today introduced a new website called Della, which it will use to help market its Dell Inspiron range of laptops & netbooks to women. The site has lots of photos of women using notebooks in various situations whether it's on the couch, for business or out and about.
As have to vanquish any doubts the site is targeted to women, it has part of the site dedicated to 'tech tips' which talks about seven unexpected ways a netbook can change your life. These include getting healthier by tracking your exercise and food intake as well as eating better by finding recipes online! I'm not sure if it is just me, but the site seems mildly condescending, telling women what they can do with their netbook.
One of the featured products on the site is the Dell Mini 10, which can be customized with exclusive artist designs. There will be different artists featured on that site regularly, so you can check back from time to time to see if your favourite is there.
The option to purchase a 6-cell battery for the Dell Mini 10 netbook appeared just a couple of weeks ago and the first impressions are now coming through. We've included a few photos of the 6-cell battery after the break from the MyDellMini forums and from what we've seen it's not the prettiest solution. This is as much to do with how slim-line the Mini 10 is more than anything else.
As with the HP 6-cell battery options, at least it should provide a nice tilt when typing. Users are reporting that the Mini 10 gets roughly 5.5 to 6 hours of usage with the new 6-cell battery. For now, the 6-cell option has still not appeared in Europe, although it can't be too long now. Read more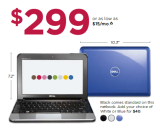 A number of upgrades to Dells Mini 10 netbook have been on the agenda since an internal roadmap was leaked last month. We have already seen Dell add options for a higher resolution display and 6-cell battery and it now looks like it will be releasing a refresh, dubbed the Mini 10v.
The Dell Mini 10v will sport the 1.6GHz N270 Atom CPU as opposed to the power-efficient Z series Atom CPUs found in current Mini 10 netbooks. This should result in similar performance but at a cheaper price. In fact it looks like Dell will be marketing the Mini 10v at $299, which is $100 cheaper than the current base configuration. Dell anticipates this model will start shipping in mid-May in the US.
Engadget is also reporting that Dell has added SSD options for the Mini 10. It seems that this option is only appearing for the new Dell Mini 10 Linux version, which now comes with Ubuntu 8.0.4, and not the Windows version for now. The 32GB SSD upgrade will set you back $75 whilst a 64GB SSD will cost $125. The Ubuntu version will start shipping from 28 May with the base package costing $369. The screen grabs are attached after the break. Read more
April 23, 2009 at 8:14 pm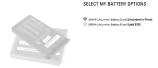 Dell has now made the 6-cell battery option available for the Inspiron Mini 10 netbook. On checking various Dell country sites, it seems that the option is only available in the US right now where it will cost an additional $30 over the 3-cell version. Dell hasn't given any information as to how much longer this will make your Mini 10 last, however we would expect some real world tests from owners over the coming weeks.
A number of updates were due on April 17 according to a leaked internal roadmap, however this is the first to appear so far. Options that were meant to appear, apart from the 6-cell battery, were a 250GB hard-drive, a TV Tuner, Ubuntu Linux and, potentially, even a 1.86GHz Atom CPU. The roadmap says that a 2GB RAM option will be available on 20th May.
Via Portable Monkey.
April 22, 2009 at 2:52 pm
Roundbox, a major player in mobile broadcast software, has shown off the first netbook with integrated Mobile DTV reception. The demonstration at the 2009 National Association of Broadcasters Show (NAB) in Las Vegas, involved a Dell Inspiron Mini 10 netbook, the Roundbox client and an integrated prototype tuner from LG.
"This prototype clearly demonstrates the ability to seamlessly integrate Mobile DTV into a netbook giving consumers a compelling new TV entertainment capability in conjunction with the device's strong networking functions," said Vinod Valloppillil, vice president, product marketing at Roundbox.
Dell plans to offer optional built-in support for the Mini 10 across several broadcast standards in the coming months. This includes DVB-T (Europe), ATSC (U.S.), CMMB (China) and ISDB-T (Japan). The potential for such technology could be huge for netbooks, especially given their portability and increased battery lives.
April 17, 2009 at 11:00 am

Good news for Europeans interested in buying the Dell Inspiron Mini 10 netbook, the option to select a 1366 x 768 display is now available across the continent. This follows the option being available to US consumers since the end of last month. Pricing seems to be quite reasonable too. Checking the UK site suggests an upgrade price of £15, whilst on mainland Europe the upgrade will cost you €20.
Today was the day that some other Dell Mini 10 options were supposed to appear according to a leaked internal roadmap. On checking the Dell US site though, there still remains no option for a 6-cell battery, TV Tuner, higher spec 1.86GHz CPU or Linux options. On 20 May, the option for 2GB RAM is meant to appear.
April 5, 2009 at 11:13 am
Dell's netbook roadmap appears to have been leaked by a tipster to NetbookNews.de. A full range of presentation slides have been leaked for Dell's 2009-2010 mini-notebook/netbook roadmap. The roadmap highlights when we can expect to see some of potential upgrades for the Mini 10 as well as hints for a new model dubbed the Dell Mini 11 with an 11.6-inch display.
When the Dell Mini 10 was first announced a number of options were promised for the 10-inch netbook. We have already seen a higher-resolution (1366 x 766) display appear for it and judging from the roadmap a number of other options will appear on April 17th. This includes a 250GB hard-drive, a TV Tuner, a 6-cell battery, Ubuntu Linux and, potentially, even a 1.86GHz Atom CPU. On May 20th a model with 2GB RAM is also planned. It is difficult to know how set in stone this is as one of the slides says: "Do we need the 1.86GHz processor option? Performance increase is minimal but cost increase is high – approx $75". This clearly highlights that maybe this is still work in progress.
The slides also point to a new Mini 10 with 1.6GHz N270 Atom CPU, Ubuntu and XP options and 120/160GB HDD or 8/16GB SSD options. The Dell Mini 11 with an 11.6-inch high resolution display is muted for a Q2/Q3 release. An updated Mini 10 with Intel's new Pine Trail processor is also expected in Q3/Q4. The slides are not the easiest to follow and we also do not know when they are from and if anything has changed in the meantime. Check out the slides after the jump. Read more
April 3, 2009 at 12:31 pm
For those of you trying to decide between the 8.9-inch Dell Inspiron Mini 9 netbook against the 10.1-inch Dell Mini 10, NetbookNews.de have an extensive photo gallery comparison comparing the two netbooks.
Judging by the photos it appears that the lids of both netbooks are prone to fingerprints. Both also use identical power supplies. For those of you siding with the Mini 10, it is worth noting that a high resolution (1366 x 768) display option is now available for an extra $35.
March 30, 2009 at 10:19 pm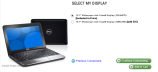 For those of you thinking about purchasing the 10.1-inch Dell Mini 10 netbook in the US, it is worth knowing that Dell are now offering the high resolution option on its site. Currently the Dell Mini 10 supports a resolution of 1024 x 576, however for a reasonable $35 upgrade fee, you can opt for a higher resolution (1366 x 768) display. Read more
March 20, 2009 at 8:02 pm
Digital Home Thoughts got round to posting their impressions and unboxing video on the Dell Inspiron Mini 10. The 10-minute video is mostly a walkthrough of the device and at the end of the video he also compares the Dell Mini 10 to the HP Mini 1000. It's interesting to see that the form-factors of both netbooks are very similar, even down to thier keyboards.
Initial impressions were positive, however he did question its price point compared to other netbooks. The restriction to just 1GB and resolution of 1024 x 576 doesn't seems as attractive as either the Samsung NC10 or Asus 1000HA which cost the same price and offers more battery life. Watch the video after the break. Read more
March 9, 2009 at 10:08 am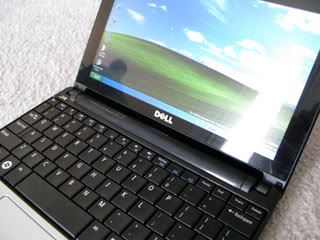 Electronista has released a thorough review of the Dell Mini 10. Overall they found the netbook very enjoyable to use on a day-to-day basis, but as with Laptop Mag's thoughts, they found that other netbooks offer more for the money, namely Asus' Eee PC 1000HE. The Asus provides better battery life and more power under the hood for the same price. However, an upcoming six-cell battery, sharper display (1366 x 768 resolution as opposed to 1024×576) due in April and 2GB RAM could change the overall proposition depending on pricing.
Key points from the review:
Not as thin and light given the size. At 2.86 pounds in weight and 1.25 inches at its thickest point, the Mini 10 is heavy enough to feel more like a notebook.
Flush glass display is bright and colourful.
The HDMI video output provides an edge over other netbooks where VGA is offered. However, unfortunately limitations on the CPU mean that HD video at 720p is not an option, diminishing the value of the HDMI output.
No upgrade available on 1GB RAM. The RAM is soldered on to a board inside the system rather than put into one or more RAM slots. A 2GB version is on the way.
Mini 10's keyboard is arguably the highlight of the system. The full trackpad area is a positive development for Dell netbooks.
Specifications don't differ to most other netbooks on the market: 1GB of RAM, an Intel Atom processor, and a 160GB hard drive.
Mini 10's small 3-cell battery lasted 2.5 hours.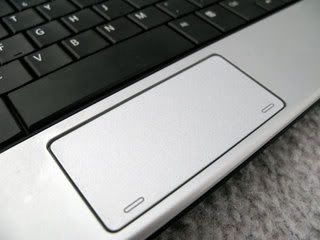 March 7, 2009 at 10:47 am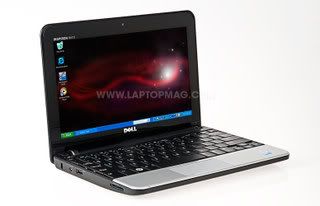 Laptop Mag has posted their review of Dell's upcoming Mini 10 netbook. Overall while they thought it was a competent offering, they believe other netbooks offer better value for money. The main criticisms came in the form of an awkward touchpad design and no six-cell battery offered at launch. Whilst the Dell Mini 10 is the thinnest and lightest in its class, both the Samsung NC10 and Asus 1000HA offer better battery life for less money.
Key points from review:
CPU performance was fairly standard (1.6-GHz Intel Atom Z530 CPU) although a 720p WMV video gave the Mini 10 some trouble.
The 10.1-inch display resolution of 1024×576 is less than standard for this size (typically 1024×600). This results in two less lines of text on Web pages.
The Mini 10 keyboard was larger than that of the Mini 12. They keyboard itself was relatively comfortable offering good, springy feedback.
Touchpad buttons quite small and hard to use.
The included three-cell battery lasted 2hrs 45 minutes.
Laptop Mag's review sample had a configured cost of $449, however Dell is currently offering the base configuration on pre-order for $299, a saving of $50. The base configuration includes a 1.33GHz Z520 Atom CPU, 10.1-inch (1024×576) display, 160GB HDD, 1GB RAM, 1.3MP webcam, 3-cell battery and Windows XP Home SP3.