December 22, 2009 at 8:32 am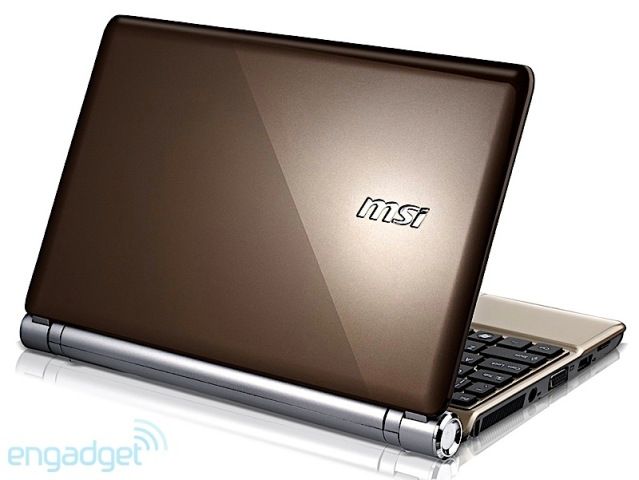 We broke the news on the existence of the MSI Wind U160 netbook yesterday and now Engadget has confirmed that it will be making an appearance at CES 2010. They've managed to get hold of a number of official press shots and we have to say that it looks like a stunning bit of design (it's not too often we've said that about a MSI netbook!)
MSI appear to have taken some design cues from Asus and Toshiba, but the result is one of the company's most desirable netbooks to date. The hinge is similar to that of the Toshiba NB200 whilst the touchpad consists of a dimpled surface as seen in Asus' Seashell range. The 10-inch Wind U160 will be powered by a 1.66GHz N450 Pineview processor and come with a 10-hour battery. Prices will start around the $350 when on launch. Check out some more pictures after the break. Read more
December 21, 2009 at 2:18 pm
Just this morning we brought you news that MSI were planning on releasing at least four netbooks using Intel's new Pine Trail platform. Now we have just received official word regarding two models in that list, the U130 & U135 Wind.
The 10-inch (1024 x 600) netbooks will be armed with a 1.66GHz N450 Pineview Atom processor, 160GB/250GB HDD options and Windows 7. Other features include Wi-Fi (b/g/n), Bluetooth 2.0, a 1.3MP webcam and a 4-in-1 card reader. Both netbooks are also the first to receive international WiMAX Forum certification in areas that can use the WiMAX service. Read more
December 21, 2009 at 9:45 am
We have it on good authority that MSI is set to launch its own range of Intel Pine Trail Atom netbooks including the Wind U130, U135, U140 and U160 models. Details are scant on the models themselves apart from the fact that they will use the 1.66GHz N450 Atom Pineview processor.
The U130 and U135 models are expected to be similar to the U100 but with a larger touchpad. The U140 is said to use the same chassis as the U123. The U160 will come in a super skinny chassis. Whether this means it is a CULV ultra-thin or fanless Pineview Atom model is unknown at this stage.
The U130, U135 and U140 are expected to be 10-inch netbooks although we couldn't confirm whether this is the case for the U160. We believe that MSI is lining up these netbooks for a CES 2010 launch in January. We'll bring you further news as we have it. In the meantime, check out the first picture of the MSI Wind U135 below. Read more
November 29, 2009 at 12:18 pm
The AMD Congo-powered MSI Wind12 U230 netbook was recently launched and has already seen its first review. Now the crew over at NetbookNews has posted a video hands on of the 12.1-inch device.
The video shows a flat-key keyboard that stretches to the edge of the chassis. The right shift key isn't that big, but that's because there are separate keys for PgUp, PgDn and Home keys. It also has a reasonably large touchpad with separate left/right mouse buttons. It has a 5200mAh battery for around 6 hours of battery life. There is also a large access panel on the bottom to upgrade HDD & RAM. Check out the video after the break. Read more
August 12, 2009 at 6:25 pm
The MSI Wind U100 PLUS was announced four months ago but we haven't heard anything since. Well it now looks like the U100 PLUS will finally start to ship in Europe within the next few weeks. The U100 PLUS is effectively a refresh of the U100 and comes with a faster N280 (1.66GHz) Atom processor.
It also comes in two additional colours, Rose Champagne and Metallic Blue, as well as the original three colours (red, black and white). Apart from that the specifications appear to be the same as the original U100 netbook.
Via Fudzilla.
August 3, 2009 at 7:36 pm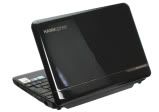 Hannspree's Hannsnote 10-inch netbook is basically a rebadged MSI Wind. The Hannsnote SN10E1 netbook has been on sale for the past couple of months in the UK for £259.99 and seems to offer good value for money, despite its generic specifications. For this money, it offers features found in more premium models including a wireless draft-N, Bluetooth and a 6-cell battery good for around 5 hours.
TrustedReviews has put the HANNSnote through its paces and scored it well (8/10) mainly due to its value offering and 'premium' features outlined above. Given that Misco.co.uk are offering £30 cashback until the end of August, this makes the HANNSnote an even more compelling offering at £230. This puts it a significant discount to the likes of the Asus Eee PC 1000HE at £290 that has a better keyboard and touchpad. Check out the key review points after the jump. Read more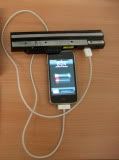 Now I've certainly never seen anything like this. The guys over at Prusadjs.cz hacked a MSI Wind battery so that it could be used to charge other USB devices, namely an iPhone. The 3-cell battery only provides a few hours of battery to run the netbook, but it has enough to power to keep a USB device charged for a while.
The mod is not for the faint hearted, he ended up opening up the battery and soldering an USB port. The great thing is that once modded it still can be used to power the MSI Wind netbook. Check out the video after the jump. Read more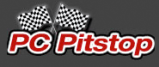 PC Pitstop run an online diagnostic and tune-up service, which has been scanned onto millions of PCs. As part of this service, they also ask owners how satisfied they are with their PCs. According to the results, it seems that netbook owners are largely satisfied with their purchases.
They have compiled a top nine list of netbooks for user satisfaction, which is topped by the MSI Wind U100. The overall rating scale is measured out of four stars. The survey also asks whether the PC freezes, reboots and how fast they are. All top 9 machines fare very well in the survey, with even the ninth position scoring 3.03 stars.
Interestingly, the MSI Wind U-100, Asus Eee PC 1000HE, and Samsung NC10 are also among Pitstop's top 10 for notebooks of all types. This suggest that many people don't see them as substitutes for laptops and are happy with their performance. Check out the top nine most loved netbooks after the jump. Read more
March 27, 2009 at 9:30 am
The MSI Wind U123 netbook, which was first shown at CeBIT, has now made an appearance on the official MSI site. A full list of specifications is available along with drivers, BIOS and manuals. Interestingly, as well as the Wind U123, MSI will also release the U123T which includes a built-in TV tuner and the U123H which comes with built-in 3.5G (HSDPA).
As far as I am aware, the U123 was meant to come with a 6-cell battery but according to the official Global site it looks like a 3-cell battery will be standard, with options for a 6-cell battery (we hear that an optional 9-cell battery will also be available). However, there is some discrepancy with the MSI Global site and Japanese site as the latter says that it will come with a 6-cell battery as standard. So maybe the Global site has a typo. Read more
March 19, 2009 at 11:37 am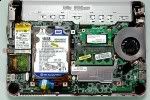 The guys over at UMPC Fever have taken the traditional 'unboxing' to new levels by stripping the Wind U115 right down to its Hybrid storage. The MSI Wind U115 Hybrid promises the longest battery life yet seen in a netbook through a combination of 9-cell battery and hybrid storage solution. Recent tests have shown that the battery life lasted as long as 13 hours on a single charge.
The model came with a 160GB Western Digital Scorpio Blue HDD and 8GB SDD, seated next to 1GB of RAM. Overall, the U115 Hybrid is believed to come in three HDD/SDD combinations. There will be 8GB SSD + 80GB HDD, 16GB SSD + 120GB HDD and 32GB SSD + 160GB HDD models planned. The model won't be cheap though with an expected price point of €549 in Europe. Check out some more pictures after the jump. Read more
March 17, 2009 at 12:27 pm
As we suspected in yesterday's post regarding the official MSI Wind U110 ECO launch, MSI has made a mistake in the specification list. We were confused when in the list there was an ATi Radeon HD3200 listed for graphics duty. However, given that the Intel Poulsbo US15W chipset features integrated GMA500 graphics and only two PCI Express x 1 lanes it was hard to see how it was possible.
MSI has now officially confirmed that the listing was indeed a mistake and the GMA500 integrated graphics will have to suffice, which may be a disappointment for some.
The Wind U110 offers a nine-hour battery life. Other specs include Intel's Menlow Atom 1.6GHz Z530, 1GB of RAM and Windows XP, together with a 160GB hard-drive. There's also optional Bluetooth 2.0 and WiFi draft-n support. Pricing and availability is yet to be announced.
March 16, 2009 at 2:54 pm
The MSI Wind U115 Hybrid is reported to cost €549 when it is released in France later this month according to Blogeee. This price point would put it a premium to a lot of its peers, even when you consider the Hybrid nature of its storage system.
We reported last week how the U115 Hybrid managed 13-hours of battery life from a single charge, mainly due to the combination of hard-disk drive and solid-state drive. The U115 Hybrid is believed to come in three HDD/SDD combinations. There will be 8GB SSD + 80GB HDD, 16GB SSD + 120GB HDD and 32GB SSD + 160GB HDD models planned. It is unclear as to which price point the €549 refers to.
If this price point is a true reflection of how much the unit will cost across Europe, then MSI may have a challenge on its hands. Whilst it has to be commended for introducing new hybrid storage technology and the impressive battery life, one may be able to buy the Samsung NC10 or Asus Eee 1000HE and extra battery for less money than MSI's U115.
March 16, 2009 at 12:20 pm
MSI has today officially launched its Wind U110 ECO netbook. Its claim to fame is a battery life of nine hours. However, the press release doesn't make it entirely clear whether this is with the supplied 3-cell battery or optional 6-cell battery. We'd go with the latter which would not be entirely unexpected given the choice of Atom CPU (featuring Menlow platform) and LED-backlit display, saving power over an LCD equivalent.
The unit is powered by a 1.6GHz Z530 Atom CPU and Intel Poulsbo US15W chipset. What I find confusing is that the press release also points to an ATi Radeon HD3200 for graphics duty which was certainly unexpected. However given that Intel's chipset features integrated GMA500 graphics and only two PCI Express x1 lanes, it's a bit hard to see how this could be possible. We await to see whether this is a mistake on MSI's part or it is indeed true. Read more
March 12, 2009 at 12:10 pm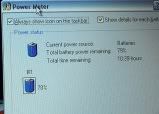 The MSI Wind U115 netbook was announced at CES in January with a promised battery life of 10.5 hours on a 9-cell 5200mAh battery. This long battery life was touted as a result of a combination of a 160GB hard drive and a 8GB SSD. The U115 is powered by a 1.6 GHz Intel Atom Z530 CPU. However, according to some battery tests by EeePC.de, it seems that those MSI battery claims may actually be conservative.
The test was run in Battery Eater Classic, which continuously calculates the decimals of Pi until the CPU is at 100-percent, as well as running 3D graphics tests. As for netbook settings, the U115 was switched to 30-percent brightness, using SSD only (rather than the HDD) and WiFi turned off. This yielded a battery life of 13 hours and 15 minutes. More tests are planned, this time testing how long it would last with WLAN turned on, which would provide more real-world results. However, given the impressive 13-hour run time, we would expect at least ten hours with WiFi switched on.
Now, from reading the article, it is still unclear whether a 9-cell or 6-cell battery was used in the test. I imagine it is indeed the 9-cell battery, although it is worth remembering that this is unlikely to be sold as standard with the Wind U115 Hybrid. However, if these results are representative of final units then even a 6-cell battery is likely to yield a battery life of over 7 hours in the real world.

Voting is currently open at Engadget to determine nominations for Netbook of the Year 2008. It's worth popping along to nominate which netbook you feel deserves the accolade. At the current comment count of 67, it looks like the Acer Aspire One is leading the charge along with the Dell Mini 9 with ten votes and nine votes respectively. Those just behind on six votes each are the Samsung NC10, MSI Wind U100 and the Lenovo S10. A solid list of nominees so far.