March 13, 2009 at 12:07 pm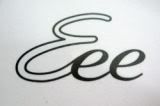 The Asus' Eee PC brand is Japan's favourite according to research firm Gfk, with a market share of 27 percent in terms of sales. Since the start of 2009, Asus has sold 60,000 Eee PCs.
The best selling netbook in Japan last week (March 2nd to 8th) was the Asus Eee PC 1000H followed by Lenovo's S10 4068A. The Acer Aspire One claimed third spot according to Digitimes.