March 25, 2009 at 12:53 pm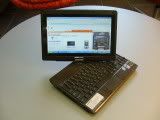 Import specialist, Mobilx, has confirmed that Gigabyte's upcoming range of netbooks will start to hit retail channels from 30 April. The only models that have confirmed dates so far are the T1028M TouchNote convertible tablet and M1022 Booktop.
The TouchNote series will come in four different variants (M, G, P & X). All four have a 10.1-inch LED backlit display but the M/G models have 1024 x 600 resolution whilst the X/P models will be the HD models, supporting a resolution of 1366 x768. The Booktop M1022 is a white netbook that comes with its own docking station. The docking design allows you to connect a keyboard and monitor so that you can use it as a desktop at home and then take it out of its dock when on the move. The ThinNote S1024 ('S' standing for slim) is just 2cm thick and weighs only 890g.
Mobilx already has a sample unit of the T1028M TouchNote in their possession and have upgraded it with a 3G-module as the antenna is pre-wired. The TouchNote also has a pre-enabled SIM card slot. The Gigabyte T1028M TouchNote has a pre-order price of €477.63 whilst the M1022 Booktop has a pre-order price of €440.34. The S1024 Thin Note is listed at the same price as the Booktop although has no date listed yet. All of the above prices exclude VAT and 3G options cost extra. Check out the full specifications for Gigabyte's range after the break.
Gigabyte Touch Note T1028 M / G / P / X
Intel Atom N270 1.6GHz OR N280 1.66GHz
Intel 945 GSE / Intel GN40 (only T1028P) Chipset
Max 2GB RAM
2.5-inch 160GB Hard Drive
10.1-inch LED-backlit LCD display 1024×600 (T1028 M/G) or 1366×768 (T1028X/P) resolution, touch-sensitive
WiFi 802.11a/b/g, Bluetooth 2.1
3.5G HSDPA (T1028G)
Optional WiMAX
Weight: 1.3Kg (with 4-cell battery), 1.48Kg (with 6-cell)
Gigabte Thin Note S1024
Intel Atom N270 1.6GHz
Intel 945 GSE chipset
1GB RAM
1.8-inch 60GB or 80GB Hard Drive
10.1-inch 1024×576 LED-backlit display
WiFi 802.11a/b/g, Bluetooth 2.1
3.5G HSDPA (S1024G)
Weight: 890g (with 6 Cell battery)
Gigabyte Booktop M1022
Intel Atom N270 1.6GHz
Intel 945 GSE / Intel GN40 (only M1022P) Chipset
Max 2GB RAM
2.5-inch 160GB Hard Drive
10.1-inch LED-backlit LCD display 1024×600
WiFi 802.11a/b/g, Bluetooth 2.1
3.5G HSDPA (M1022G)
Optional WiMAX
ExpressCard Slot
Weight: 1.3Kg (with 6-cell battery)