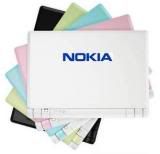 Nokia has firmed plans to enter the netbook segment according to close sources within the company. These sources claim that production of its new netbook line-up will be handled by one of Nokia's existing ODM partners, Foxconn. It is looking to tie-up with Foxconn to enter the netbook race more quickly and cheaply than if it had gone it alone according to The Street.
Back in February it was already hinting that a move into the netbook arena was already high on the agenda. Nokia CEO Olli-Pekka Kallasvuo was asked if the company was planning to extend its consumer scope beyond mobile phones to netbooks and replied: "Of course, we are looking very actively at this opportunity. We don't have to look even for five years from now to see that what we know as a mobile phone and what we know as a PC are in many ways converging. Today we have hundreds of millions of people who are having their first Internet experience on the phone. This is a good indication".
Nokia would most likely try to capitalise on its strength as a mobile phone company when designing a netbook. This could include ARM-based processors so that a 3G-chipset is integrated into each netbook as well as promoting its online Ovi service to an entirely new set of customers. We know that Nokia has already created a number of MIDs, including the N810, so a more formal netbook wouldn't be out of the question.
The real question will be what OS will Nokia choose for any planned netbook? It has already used a Linux variant known as Maemo on the N810. Therefore something like Moblin may be an obvious choice. Android may be another option, although that will be in competition with its own Symbian platform. It's hard to see Symbian working as a good OS for netbooks, but given Nokia's clout, you couldn't bet against it being a success.