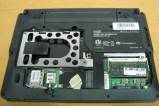 OCZ's 10.1-inch Neutrino DIY netbook differs from most netbooks in the market by allowing you to source your own RAM, hard-disk drive and operating system from wherever you can find the best deal and 'build-it-yourself". Laptop Mag went hands-on with a Neutrino DIY and opened the whole thing up to highlight how easy it is to change/upgrade these components.
Luckily, the bottom of the case has an easily accessible upgrade hatch. Removing five screws reveals a 2.5-inch SATA hard drive slot, a PC-5300 SO-DIMM RAM slot, and a free mini PCI-e slot. The chassis is the same as other netbooks, probably not a surprise since it is designed by a third party. Whilst the looks were somewhat bland, it did feel light. The keyboard offered solid feedback and all of the buttons were in their proper locations. This included the touchpad buttons which were located below the pad.
The 'core' specifications include a 10.1-inch (1024 x 600) LED backlit display powered by a 1.6GHz N270 Atom CPU and 945GSE Intel chipset. It comes with a 4-cell 2200mAh battery, 1.3MP webcam and WiFi (b/g only). Laptop Mag will have a full review in the next few days when they intend to insert a hard-drive, 2GB of RAM and install Windows XP. In the meantime, check out some pictures after the jump.