April 9, 2009 at 11:18 am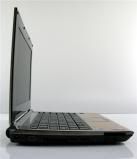 Australia's PC Authority has managed to get hands-on with the Eee PC 1004DN, Asus' first netbook with embedded optical drive. Interestingly, they also revealed that the 1004DN has an Australian RRP of AUD1399, the first time we have an idea on pricing. This converts to roughly $995/€750/£680 so it certainly will not be cheap if the 1004DN ends up coming to the US/Europe.
Starting off with the chiclet keyboard, they found the comfort level was good with a good response, despite the rattle of the keys (something which a number of chiclet keyboards suffer with). The same couldn't be said of the trackpad which they found to be "sticky and unresponsive".
The 1004DN comes with a 6-cell 5200 mAh battery that is expected to last 5.9 hours. This battery was the main thing that spoilt the otherwise slender profile of the 1004DN. I'm surprised they didn't try to fit the battery flush in line with the rest of the chassis, although with the embedded optical drive I imagine internal space was at a premium.
The 1.66GHz N280 Atom CPU gave a performance of 0.42 in their benchmarks as opposed to the usual 0.39, so a slight performance increase. I still don't really understand why they went for some quite powerful hardware yet stuck with a standard-definition (1024 x 600) 10-inch display. They didn't talk too much about the 1004DN's main USP, its optical drive, although I expect we'll hear more in a full review shortly.
Via Liliputing.