April 10, 2009 at 1:18 pm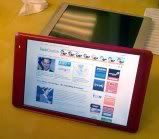 TechCrunch supremo, Michael Arrington, set upon a challenge last July when he outlined a plan to create a very thin and light touch screen computer, minus a physical keyboard and hard drive that boots directly to a browser to surf the web. The main use for such a device would be for internet consumption and be priced at around the $300 mark. The device, called the CrunchPad, has since been under wraps with TechCrunch working with a number of hardware partners to turn the idea into a reality. However, last night some pictures of the CrunchPad leaked.
The pictures show what looks like to be quite a large albeit slender tablet, the exact specifications are unknown although it is said to have a 12 inch capacitive screen powered by an Intel Atom CPU. Other features include a camera, speakers, microphone and a single USB port. Personally, I've always found virtual keyboards quite painful to use, although I guess it would be okay for light email use or quick searches.
Despite a lack of further information, the pictures show a device that appears to be close to launch with a number of photos showcasing retail packaging and bags. This looks like a very attractive device and, if successful, would no doubt see a number of copycat designs. Success will hinge on whether the weight, price and battery life of the CrunchPad are right. However, given its form-factor and multi-touch display Arrington could be onto a winner here.