April 18, 2009 at 12:17 pm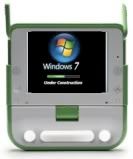 The One Laptop Per Child project has announced a v1.5 refresh of its XO-1 laptop. Whilst the unit will use the same design and batteries as v1.0, it will now use the VIA C7-M chipset as opposed to the AMD Geode processor found in the original. This chip has a clock speed ranging from 400MHz to 1GHz but the speed may be throttled back depending on the heat generation. Other improvements include 1GB RAM and 4GB of flash storage including an optional 8GB SKU.
The CPU will be used with the recently announced VX855 media processor that offers among its features the ability to decode full 1080p video. The move to the new chipset will see faster speeds using less power when idle as well as costing less than the Geode processor. This move could theoretically mean that the XO-1 may even be able to run Windows 7!
OLPC expects its first driver test-beds to be ready next month and completed prototypes shipping at the end of August. Whilst a shipping date hasn't been announced, the team is aiming for backwards compatibility with v1.0 applications when V1.5 finally ships. OLPC is also working on the XO-2, which will focus on dual multi-touch screens and may eventually include 3G or WiMAX to get Internet access. The XO-2 is scheduled to ship in late 2010.
Via Electronista.