April 21, 2009 at 2:38 pm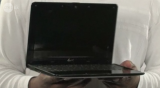 The Asus Eee PC 1008HA is definitely the most attractive netbook in the Asus 1000 series of netbooks. It takes a number of design cues from the more luxurious S101/S121 models which include a very slender form–factor. Cnet UK has managed to go hands on with a pre-production model of the 10-inch Asus Eee PC 1008HA.
They refer to it as the 'Seashell' but I'm unsure at this point whether its nickname will be used in final marketing by Asus. Overall they liked the slim styling although felt that it didn't look as sexy as the Asus S101. You can see that ports are hidden behind flaps to keep a clean look.
One disappointment is that the battery will be built-in and therefore non-removable. They are doing something similar with the Eee PC T91, I do hope that this does not start to become a trend. Asus claim that the battery should give around 5 hours of life.
The keyboard did not appear to be of chiclet design and comes in at 92 percent the size of a full sized keyboard. The touchpad will support multi-touch gestures as most new Asus netbooks do. Other specifications are fairly standard. The Eee PC 1008HA has a 10.2-inch LED backlit screen which supports a resolution of 1024 x 600 and is powered by an Intel N280 Atom CPU and 1GB of RAM. It will also come with a 160GB hard-disk drive. The Eee PC 1008HA is due to hit retail in the next few weeks at £359.