April 23, 2009 at 1:23 pm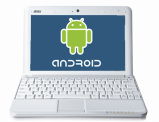 We already know that at least two ARM-powered netbooks are due to make an appearance at Computex Taiwan this year. Given the Android push, we would not be surprised to see these running on Google's operating system. Now we have word from Digitimes, that MSI is planning to showcase an Android-powered netbook at the same show.
The report says that development of the netbook has been in conjunction with the Taiwan's Institute for Information Industry (III), although no further comments were given. Either way, Computex looks like it will have some big news for the netbook market. We can't wait to see what comes out of it. Computex takes place between 2 – 6 June 2009.