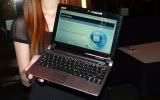 Acer has already confirmed that we will be seeing the Android operating system appear on an Aspire One netbook next quarter. To show how serious it is, the company showed off an Aspire One D250 netbook running Google Android at Computex.
The version of Android shown off appears to be the Cupcake version (v1.5), with no modifications for the 10-inch screen. Interestingly, a full version of Firefox running on Android was also shown. It is unlikely that previous versions of the Aspire One netbook will get Android OS options, I imagine that we'll see a completely new model sporting Android.
The two videos below demonstrate that the start-up and boot down times are very quick. Overall it takes just eighteen seconds to start up and just one second to boot down.