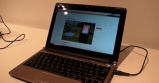 The smartbook moniker has only been created very recently, but judging by this year's Computex show, it is set to become a firm part of the portable gadget landscape. This time around it is ODM (Original Design Manufacturer) Compal's turn. They have demonstrated a smartbook device that is powered by a Qualcomm Snapdragon chip and running Google Android.
Asus has also shown an Eee PC running Android and powered by a Snapdragon chip, however it looks like they weren't ready to showcase this model themselves (the reveal was on the Qualcomm stand at the Computex show).
Compal has optimised the start-up interface and apparently further tweaks are on the way. The video shows just how quickly the internet browser loads pages. This smartbook is expected by the end of the year. Check out videos from TechVideoBlog and JKKMobile after the jump.