July 16, 2009 at 10:47 pm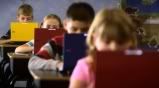 The Dell Latitude 2100 netbook is targeted to the education market. The 10-inch netbook has special kid-proof features like a network activity light on the lid, rubberised case, a fanless bottom to avoid spills as well as some optional extras such as an anti-microbial keyboard, carrying handle and shoulder strap.
While we've already seen the Latitude 2100 unboxed, we haven't seen how the Mobile Cart works. This can be thought of a Mobile Computing Station that allows you to manage and network up to 24 netbooks with just one Ethernet and power cord. It doesn't come cheap though at $3,900. The promotional video below does a good job of showing this mobile station in action. It does look impressive and could be a sign of things to come in the future. Check out the video after the jump.
Via NetbookNews.de [via Liliputing].