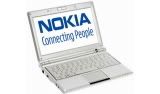 Over the weekend, a Finnish blog called Puhelinvertailu, unearthed a number of Nokia trademarks for possible upcoming handsets and devices. A steady flow of new devices were revealed including a new 'C' and 'X' series handset line-up as well as something called 'Nokia Money'. However, from our point of view, the most interesting tidbit from Finland's trademark database was the 'Booklet' name.
The trademark for the Booklet name was filed on 20 June 2009 using the following description: "Computers, laptops, smart phones; accessories for computers, laptops and smart phones." A sensible guess would be that this may the brand that Nokia might be releasing its oft-rumoured netbook/smartbook device.
Companies often trademark words and model numbers, but it does not mean they are going to use them. However, rumours of a netbook-type device have been going on for a while now so it certainly wouldn't be a surprise. Maybe we'll find out more during Nokia World in Stuttgart from 2nd-3rd September.
Via IntoMobile.