September 2, 2009 at 7:46 pm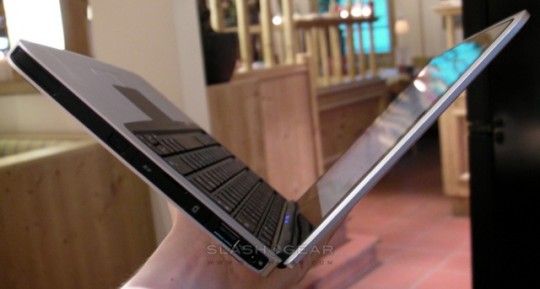 Nokia unveiled all of the details of its first entry into the netbook segment this morning. The Booklet 3G is a premium netbook and the company clearly believes that it justifies this tag for a number of reasons. Without question, it is one of the most attractive netbooks on the market today. It is just 20mm thick and comes in an aluminium chassis that leads to comparisons with the Apple Macbook. It is also one of the few netbooks to include 3G connectivity, a crucial aspect since it is likely to be sold on contract via wireless carriers as well as on a standalone basis through retail.
Looking through the initial impressions of bloggers out at Nokia World, it also seems that the keyboard is a delight to use. The touchpad is also large and has well-spaced buttons. The HD (1280 x 720) screen sits flush with the chassis, which gives it a classy look. We are also glad that Nokia has chosen to include a removable 16-cell (3,840mAh) battery in the Booklet 3G and looking at the remaining specs it certainly seems to be well featured (Wi-Fi draft-n, Bluetooth 2.1, HDMI, 1.3MP webcam). Nokia also claims that you'll get a 12-hour battery life, which is superb. You even get an accelerometer, although I'm not sure what use this has in a non-tablet device? However, despite all of these positives, there are a number of issues that we feel lead to a disappointing package overall.
Maximum 1GB RAM: Now this I found inexcusable. The Booklet 3G will have 1GB RAM that is soldered into the chassis. I'd be very surprised to see another DIMM slot in the chassis, so that means all users will be limited to just a maximum of 1GB RAM. I just feel that it will not be enough for a comfortable Windows 7 experience.
Slow hard-drive: Nokia do not allow you to upgrade the hard drive. What's more disappointing though, is that Nokia has only stuck a 120GB capacity drive inside the Booklet 3G. You could argue that a higher capacity drive should have been included considering the price premium (or even better a SSD), but what's even more galling is the use of a 1.8" 4200RPM SATA hard drive. This means that using Windows 7 could be a frustrating experience. Even if you manage to crack the Booklet 3G open to install your own drive (and validating the warranty in the process) you are limited to 1.8" rather than more popular 2.5" drives.
Sluggish processor: The Booklet 3G uses a 1.6GHz Z530 Atom processor, US15W (Poulsbo) chipset and GMA500 graphics. The use of this energy efficient chipset has enabled Nokia to produce the fanless design for the Booklet. In many ways, the chip sounds ideal on paper, especially due to its inclusion of "full hardware acceleration of H.264, MPEG2, VC1" content. This means HD content on the Booklet should be a cinch and justifies the inclusion of an HDMI slot.


However, the reality is completely different. As we found, when we reviewed the MSI Wind U115 Hybrid netbook, which also used a Z530 Atom and Poulsbo chipset, the processor felt even more sluggish than netbooks we've tested with the common 1.6GHz N270 Atom. Our benchmark tests revealed that the Z530 fell behind the N270 and even video content was smoother on the N270. The bottom line is that driver support for the GMA500 is very poor and I'd be surprised if it improves before the Booklet 3G launches.

Yes, I do realise that the Wind U115 came with Windows XP and the Booklet 3G will come with Windows 7 that has better driver support, but even so, the processor is still sluggish. Given that the Booklet 3G is due to launch in Q4 this year, I don't know why the company didn't wait for the next-gen Pineview chips. The N450 will come with a 1.66GHz clock speed and have the same energy efficiency as the Z Atom series, also enabling a fanless design.

High price: The price of the Nokia Booklet 3G has been announced as €575. What is still not clear is whether this is a pre or post-tax price. Nokia recently announced the N900 smartphone recently with a €500 price tag, however it was only when it started to hit pre-order that we realised this price tag was pre-tax. Therefore pre-order prices were in fact in the €600 range. As far as we are aware Nokia normally announce products with pre-tax prices, this means that the Booklet 3G could in fact be €690 ($980, £604), which is a ridiculous price if true.


Even if the final price is 'just' €575, this is still a high price to pay for internal specifications that don't do the HD screen and HDMI-out justice. Okay, the likelihood is that the Booklet 3G will be sold on a contract basis through a number of mobile phone operators globally. This means that the upfront cost will be a fraction of this amount. However, this doesn't suddenly make it better value as the cost of the netbook will still be made up across the life of the contract.

Wintel: We can't hide from the fact that we were disappointed to see Nokia launching a Wintel netbook. Given the relationship that Nokia has with ARM and the development of open source software on its smartphone handsets, we were really hoping for a smartbook device rather than a 'me too' netbook device from Nokia. However, it looks like this is just a stop-gap as rumours do point to a smartbook device from Nokia in the future.
Combining the RAM limitations, sluggish CPU and slow HDD could mean that the Booklet 3G is a very attractive netbook let down by the internal hardware. We have heard that there might be different SKUs but until these different models are made clear, we remain cautious over the Booklet 3G. From the details that we've heard so far, and the high price-point, we'd advise you to be cautious too.