June 10, 2009 at 10:54 pm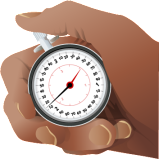 The developers behind the Ubuntu Linux distribution have some ambitious targets for its 10.04 release penned in for 2010. It aims to drastically reduce the boot times from 25 seconds, as observed in the current 9.04 version, to just 10 seconds for 10.04.
Ubuntu 9.04 and in particular Ubuntu Netbook Remix 9.04, already saw a considerable improvement in boot times. Boot time decreased from 65 seconds in version 8.10 to only 25 seconds in 9.04. This is expected to be improved further for the next release, Ubuntu 9.10 which is codenamed Karmic Koala. Ubuntu 10.04 will follow the release of version Karmic. Read more
Application stores for mobile operating systems are all the rage these days, with Apple's app store one of the most successful. Whilst app stores exist for most mobile platforms including Android, Palm and Nokia's Ovi store, not much exists for the desktop market.
Novell is looking to change that by introducing an "open-source apps store" which would bring a wealth of free software to Linux users. This is set to appear in an openSUSE edition of the Moblin OS. This app store will differ in that Novell won't be asking for a single penny in exchange for a download. Read more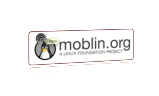 Moblin, the Intel-backed Linux operating system tailored for netbooks, has been growing in momentum over this past week at Computex Taipei. It has been pushing Moblin V2.0 along with the Linux Foundation, who took control of the project in April.
A number of operating system vendors (OSVs) have already committed to Moblin. This includes Linpus, who will offer its Moblin V2 Linpus Linux Lite in two versions, one with a Linpus UI and one with Intel's UI. Canonical will release an "Ubuntu Moblin Remix", whilst Novell demoed its SUSE edition of Moblin Version 2 on Acer and MSI hardware at Computex. Xandros also demonstrated its "Xandros Moblin 2 solution" on an Asus Eee PC in at Computex. Read more
With Computex just around the corner, Foxconn couldn't help revealing details on its SZ901 netbook that runs Linpus Lite Moblin v2.0. The 10.1-inch netbook specs are your usual Intel N270 Atom CPU, 1GB RAM, 160GB HDD and a 3G module, however it's the OS that catches the eye.
Linpus is not set to fully reveal its work with Intel's open-source OS team until next week (the video only shows the boot-up sequence). Apart from the OS and 3G module, this netbook looks distinctly average. The inside is glossy while the keyboard appears to have some flex. The bottom has easy access to the RAM and HDD. It will come with a 1.3MP webcam and 3-cell battery.
Foxconn is an ODM so the SZ901 will likely be branded by its partners. We'll look for further details, including price, launch date and possible partners, next week. Check out the video after the break. Read more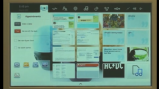 We already reported on the Moblin v2.0 Beta that launched earlier today, which comes with some quite big improvements from the previous version, including a brand new user interface. For those that have already downloaded the beta or those that are about to, I thought I'd flag an interesting video into some of its features.
The video is created by the development team behind Moblin and walks through some of the most important parts of the Moblin OS. The video was recorded a little bit before the beta so some of the bugs that are visible have already been fixed. It's one of the most attractive UI's that we've seen from a Linux kernel and we're looking to test drive it ourselves shortly. In the meantime, check out the video after the jump. Read more

Intel has just announced that the Moblin v2.0 Beta is now out. The improvements are quite significant and include a completely revamped user interface, faster boot time (<10 seconds), longer battery life and smaller memory footprint.
The new UI has a homepage called M-zone, which stands for "My" zone (screenshot below). It has been designed from the ground up and includes social networking features such as status updates. There is also instant access to calendar, tasks and appointments as well as recently used files. Read more
Intel and Novell have today announced a deal to push Moblin, the open source Linux platform designed for netbooks using the Intel Atom processor. As part of the deal, Novell will help to create a Moblin-based OS targeted for netbooks. It will also create an open lab in Taiwan to push Moblin adoption to the main netbook vendors i.e. Taiwanese based Asustek, Acer and MSI. The Novell distribution will be based on Moblin v2 for Netbooks.
If you remember, Moblin was originally created by Intel, but it recently handed over control to the Linux Foundation. The move was viewed as an attempt to attract more interest from netbook vendors who are currently steadfastly sticking with Windows XP. Judging from the Novell announcement, Intel still appears to be actively promoting the technology. Read more
Moblin, the Intel-founded Linux-based operating system, hopes to achieve an ambitious boot time of just two seconds in future iterations of its instant-on OS. The Moblin Linux kernel was created to be a fast and lightweight platform, specifically designed to run on an Intel Atom CPU.
Whilst some may view these claims as lofty, Intel revealed that the major components of its software stack, including its graphics system, can already boot up in just a few seconds when using the latest Moblin Alpha 2 release.
Whilst getting the total software stack to boot in just a couple of a seconds is a completely different matter, it is encouraging to see Intel upping the ante for its instant-on OS. The Moblin project is competing with other mobile Linux-based operating systems such as Google's Android, Jolicloud and gOS.
Intel believes that a fast boot time is paramount to the user experience. We would have to agree. Being able to start an operating system that quickly to check mail or use the Internet could change behavioural netbook habits significantly.
Via Ars Technica.
Intel is handing over control of Moblin, the Linux-based operating system developed for Atom CPU-powered netbooks, to the non-profit Linux Foundation. By setting Moblin free, Intel is hoping that the operating system will attract more interest from netbook vendors who are currently steadfastly sticking with Windows XP.
In doing so however, Intel could be taking a big risk. The promotion of the Linux-based OS could see netbook vendors move away from Intel CPUs/chipsets to rivals such as the Nvidia Ion platform or even to ARM-powered CPUs. Read more
March 25, 2009 at 2:51 pm

Moblin, the Intel-founded open-source project aimed at netbooks, has just released the second alpha of Moblin v2. The follows the first alpha release a couple of months back. The Moblin Linux kernel was created to be a fast and lightweight platform, specifically designed to run on an Intel Atom CPU.
The release includes an updated kernel, improvements to the graphics framework and revisions to the Moblin Image Creator (MIC2). The kernel still has two graphic issues with Intel's GMA 500 graphics chipset is not yet supported and 3D performance still a work in progress. Support for the MSI Wind netbook has also been added. This support comes in addition to the Acer Aspire One, Asus Eee PC 901 and Dell Mini 9.
The Moblin project is competing with other mobile Linux-based operating systems such as Google's Android, Jolicloud and gOS. Moblin's expected beta release date is still April, however we suspect there may be some slippage here. The Alpha release and pre-built images are available via the official site here. A full list of changes are attached after the jump. Read more
March 20, 2009 at 12:08 pm

Another competitor has thrown its hat into the 'instant-on' OS arena. Xandros has announced that 'Presto' has entered beta stage and is being offered as a free download until its retail release on April 13th at which point it will cost $19.95. The OEM version of Presto has already been out for a while, but this is the first time the consumer version has been released for beta. Read more