March 14, 2009 at 5:52 pm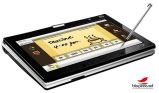 The first press shots of Asus' 8.9-inch convertible tablet, the Eee PC T91, have appeared. This is ahead of a planned April/May release. Pricing has not been confirmed but is expected to be between $499 to $ 549 (c£500) on release.
As with the other close-up shots we saw earlier in the week, the net tablet looks very elegant in white with its black edges along with metal hinge. It is one of the few 8.9-inch netbook models planned for release, with 10-inches being very much the standard now. It's certainly one of the most anticipated netbooks here at Netbook Choice (NbC), with its stylish looks and hopefully functional tablet. Its keyboard could be one of the most comfortable from Asus too. Hit the link for more pictures. Read more
March 12, 2009 at 2:56 pm
Pocket-lint managed to get hands-on with the Asus Eee PC T91 this week and posted a number of close-up photos of this Asus beauty. The 8.9-inch convertible tablet which runs on Windows XP allows you to launch into the T91's touch modes (based on a Linux kernel) through a touch of a button on its bezel. Whilst using a finger is fine for navigation the unit also houses a stylus tucked at the front.
To keep the size and weight down, the system will come with a 32GB SSD. It will also come with WiFi and Bluetooth. Additional options will include 3G modem, GPS and even a TV tuner. The T91 is expected to have a UK launch in May costing £500. Hit the link for some more photos. Read more