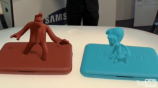 More and more companies are using viral ad campaigns to help market a product. We've found two such examples on YouTube. The first is for the Samsung N310 netbook which has two playful characters who emerge from the skin of the rubberised lids. I'm not really sure what message they are trying to deliver for this one, it has a distinct air of Looney Tunes about it. It's very well put together though and will probably get people talking.
The second video, for the Asus Eee PC 1008HA Seashell, has a clearer message. It's entitled 'picklock' and I'm sure you get the idea i.e. that the Seashell is thin enough to pick open a door. Both of these netbooks focus on design and as they stand out from the netbook crowd, it's hard not to see both models being a huge success. Check out the videos after the jump.
Update: It turns out that Asus has launched a whole host of viral videos for the 1008HA Seashell, following a similar theme as above i.e. how razor thin it is. It looks like that as well as picking locks, the 1008HA Seashell is also capable of cutting carrots, cut through some ropes that have you tied up, shaving and even be used as a frisbee. I've included them all below.