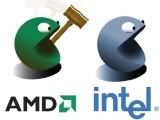 Intel has had the netbook processor market pretty much all to itself up until now. However, AMD CEO, Dirk Meyer, has revealed that the company is currently developing a platform to rival Intel Atom. To compete, he expects the AMD platform to be more power efficient and cheaper than Intel's Atom platform.
Samples of the new platform will not be released until 2010, so it will have to go head-to-head with Intel's next-gen platform called Pineview. Strangely though, Meyer confirmed that the platform will be targeted to notebooks only and NOT netbooks. He once again talked about the 'netbook' term disappearing over time.
This seems like semantics to me more than anything. By the time this AMD platform is released, netbook technology will be even stronger and the line between netbooks and the value-end notebook segment will start to blur. There is no way that 10-inch sized devices will disappear and AMD knows that, hence their talk of low-power and small-sized chips to enhance battery life.
Meyer also put the knife into ARM-based smartbooks, saying that they will have difficulty penetrating the market due to lack of software support.
Via Digitimes.