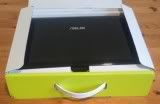 Asus' first entry into the 11.6-inch netbook segment is the Eee PC 1101HA Seashell. As it belongs to the Seashell family, its styling is very similar to the 1005HA, which doesn't have the port flaps that adorns the super-skinny 1008HA. Electric Pig has just gone hands-on with a unit and posted some unboxing pictures.
The version they unbox has a 1.33GHz Z520 Atom CPU, 1GB RAM and a 160GB HDD running Windows XP. I'm a bit concerned on the lack of detail regarding the 1101HA SKU that comes with the more powerful 1.6GHz Z530 processor. There is an Asus press event tomorrow, where I should be able to get hands-on with both the 1101HA and 1005HA and hopefully get some answers.
Crave has also gone hands-on with the device and you can see some of their pictures here. The Eee PC 1101HA is expected to launch in early July and will cost £379 as hinted at by Amazon UK, before they withdrew the product page. For more details on the 1101HA, the English manual is now available to download.