September 24, 2009 at 2:22 pm
Earlier this month, rumours surfaced that smartbooks using the Nvidia Tegra platform were in development using Google's upcoming Chrome OS. Now JKOnTheRun has heard directly from the horse's mouth that these devices are indeed being planned. Mike Rayfield, Nvidia's GM of Mobile Business, has said that Nvidia is "working closely with Google," on the Chrome OS platform. Nvidia plan to support Windows Mobile/Google Android in the smartphone segment and Windows CE/Google Chrome OS in the smartbook segment.
The Tegra platform is different to ION in that it pairs an ARM-based processor with an Nvidia GeForce GPU (ION pairs an Intel Atom CPU with the Nvidia 9400M graphics). The benefits of Tegra includes the ability to handle 1080p video, HD Flash, GPS, Wi-Fi, 3G and a huge battery life. All of this while being very energy efficient.
September 24, 2009 at 12:05 pm

We had already heard that Asus is planning to launch its own ION-based netbook, following a leaked roadmap. It looks like this launch may be getting close as the Eee PC 1201HA has popped up on the company's support pages.
The roadmap suggests that this 12.1-inch (1366 x 768) model will be powered by a 1.6GHz N270 Atom processor, 2GB RAM and a 250GB HDD. It will come with Windows 7 Home Premium, 6-cell battery, Bluetooth, and Wi-Fi (Draft-N). These specifications appear to have some ground as a Chinese retailer, PCPop, listed the 'Eee PC 1201N' last week that has the same specs. Further details include that it will run on a 5200mAh battery that should be good for 11 hours of battery life.
The roadmap suggests that the 1201HA will join the Seashell family of Eee PC netbooks and ultimately replace the 11.6-inch 1101HA. It is expected to launch for around the $499 mark during Q4 2009.
September 24, 2009 at 11:36 am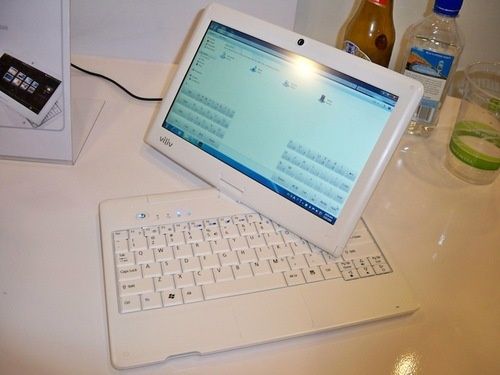 Viliv, the Korean manufacturer normally known for its MIDs, is showing off a new netbook at IDF (Intel Developer Forum) 2009. The S10 Blade is a convertible 10-inch touchscreen netbook that will ship with a 10-hour battery and launch with Windows 7 Home Premium.
Impressively, the Viliv S10 has a high-resolution (1366 x 768) display and the high-capacity battery will sit flush with the chassis. There's no multi-touch on this model though as it will ship with a resistive screen. It will be powered by either a 1.33GHz or forthcoming 2.0GHz processor, 1GB RAM and either a 32 or 64GB SSD. The SanDisk SSDs won't be performance models, running with 70MBps read rates.
It will also have optional 3G. The Viliv S10 is due out by the end of this year and available in a number of configurations starting from $499. We've attached a number of hands-on videos of the device after the break. Read more
September 15, 2009 at 7:39 am
No surprises on this announcement since most details have been leaked over the last few weeks, but this morning HP has announced an 11.6-inch netbook using the ION platform. The HP Mini 311 sports a high resolution (1366 x 768) display and is powered by a 1.6GHz N270 Atom CPU. It also has 1GB RAM and a 160GB HDD.
The press release confirms that it will come with Nvidia ION LE (entry level) and runs on Windows XP. I'm surprised that HP didn't choose to go for a full-sized keyboard, you get a 92-percent sized keyboard that is standard on most 10-inch netbooks. Other features include three USB ports, a couple of audio jacks and a 5-in-1 card reader.
The Mini 311 will hit the US on September 23rd for $399. Another SKU with Windows 7 will launch on October 22nd. Laptop Mag has a hands-on video that is worth checking out. The HP Mini 311 will be branded as the Compaq Mini 311 in Europe, Pocket Lint has a number of photos of this model. The Compaq Mini 311 will hit the UK for £349. Read more
September 14, 2009 at 11:31 pm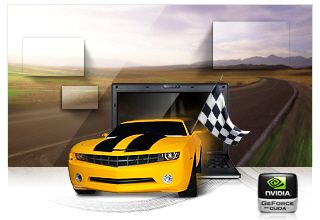 The Samsung N510 is already on sale in a few places including Italy, Germany and Hong Kong. It is expected to go on sale in the UK very shortly, with a number of UK e-tailers opening up pre-orders but no one actually shipping right now.
To gear up for the launch, Samsung has unveiled the official product page for the N510 netbook, which includes an official spec list. The interesting part is that it does look like the UK will get slightly beefier specs compared to mainland Europe. The N510 UK SKU will get the N280 Atom (Europe gets N270) and we believe that the 6-cell battery will be rated at 5900mAH, compared to 5200mAh for Europe.
Also, now that the N510 is already out in Europe, some users have been busy putting the ION-powered netbook through its paces. One such person is Fungus-T, who has ran a number of video tests (including gaming & HD video) to show off what it can do. Check out a selection of videos after the break. Read more
September 14, 2009 at 10:50 pm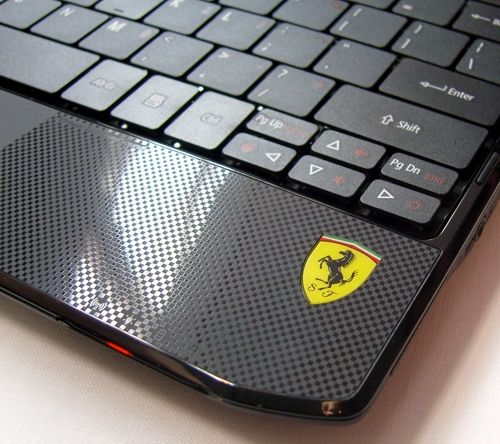 Acer announced the desirable Ferrari One 11.6-inch netbook last week. Apart from the Ferrari branding, and small aesthetic touches that differentiate it against most other netbooks, the hardware is also significantly different from most netbooks. The Ferrari One is powered by AMD's new dual-core Congo processor, if that wasn't enough, you also get ATI Radeon 3200 graphics.
Xavier from Notebooks.com managed to get hands-on with the Ferrari One, giving us a closer look of the device. He gives us a closer look of the touchpad, keyboard and palm rest. You'll notice on the palm rest, stickers for AMD Vision (its new line of chips) along with Windows 7. You can check out the video after the break. Read more
September 14, 2009 at 10:37 pm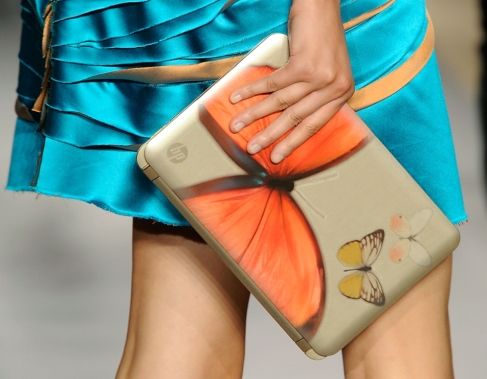 Fashion never stands still and therefore it's no surprise to see HP announcing a new netbook in conjunction with fashion designer, Vivienne Tam. This new netbook has a design inspired by "Butterfly Lovers", a classic Chinese love story. It features big butterflies against a champagne background. It replaces the previous Vivienne Tam netbook that had a red floral design.
The HP Vivienne Tam digital clutch (as it is called) will be available in Spring 2010. There's no word on hardware or pricing right now.
"To me, butterflies symbolize love, freedom, independence and transformation," said Vivienne Tam. "I love working with HP because they are also inspired by nature. Together we bring life, color and personality to the computer world, creating fashionable technology for modern women."
"The new digital clutch design embodies the inspiration for my entire spring collection," said Tam. "When women around the globe carry HP's digital clutch and wear my clothes, I want them to feel independent and free, like butterflies."
September 14, 2009 at 12:31 pm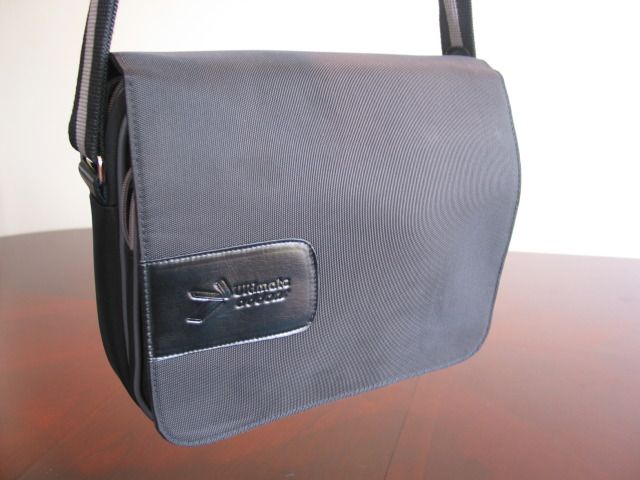 We've already looked at a few netbook cases here at Netbook Choice, but we were given the opportunity to review our first netbook shoulder bag thanks to the guys at Ultimate-Netbook. They sent over the UltimateAddons netbook messenger bag that should fit netbooks with display sizes ranging from 8.9-inches to 10.2-inches. Ultimate-Netbook is a specialist retailer of netbook accessories, including bags and cases.
The UltimateAddons bags are designed in-house, which means a high level of quality assurance. The company is confident enough in their range to offer a 30-day money back guarantee as well as providing a 12-month warranty. The UltimateAddons netbook messenger bag comes in two colours, black (which we tested) and khaki green. Ultimate-Netbook ships these bags worldwide at a cost of £19.99 + p&p. Read on to find out whether it is worth the money. Read more
September 11, 2009 at 10:48 am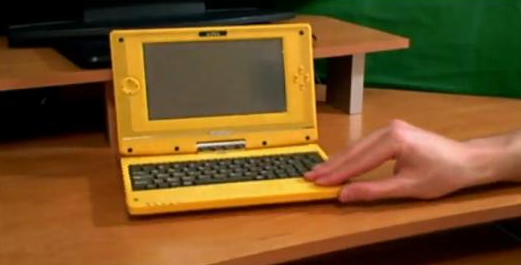 We last heard of Skytone's Alpha 860 smartbook back in May. Its main claim to fame was being the first Android netbook to be announced, despite somewhat anaemic specifications. The 7-inch (800 x 480) Alpha 680 is powered by an ARM 11 533MHz processor, 128MB RAM and 1GB of flash storage as standard. An optional upgrade to 256MB RAM and 4GB flash storage is possible. For those that want more, a SDHC slot is also supported.
Jason from Rockland got hold of a (garish) yellow Alpha 680 and shot some video impressions. Whilst the specifications may not be too grand, the form factor looks promising. It is a convertible netbook with touchscreen display and he demonstrated some touch features of Android. It does seem that it's not entirely market ready right now, for example the accelerometer doesn't seem to work. However, as a proof of concept it looks like something like this could take off with the right balance of hardware/price/design. Check out the video after the break. Read more
September 11, 2009 at 10:17 am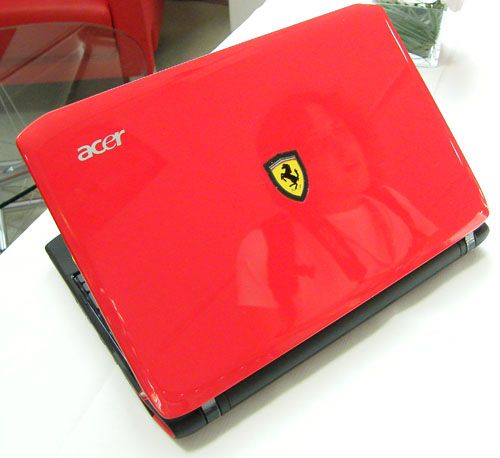 Marrying supercar brands with personal computing has existed for a while. Asus has produced Lamborghini-branded laptops, whilst Acer has done the same with Ferrari. Now Acer is trying to race ahead of the netbook pack, by launching the Acer Ferrari One.
This 11.6-inch (1366 x 768) netbook is quite different to your typical netbook. Firstly, it is powered by AMD's recently announced Congo platform. The AMD Athlon X2 L310 is dual-core offering at 1.2GHz clock speed and 1MB cache. It uses the M780G chipset and ATI Radeon 3200 graphics. The latter is certainly quite powerful (in netbook terms), enabling hardware acceleration of HD video. Read more
September 10, 2009 at 11:25 pm
Elonex has shown off a couple of new devices at IFA 2009. The first is a 7-inch smartbook that is powered by an Arm 11 processor and the Windows CE operating system. It has two USB ports, card reader, a couple of audio jacks and comes with a dongle for LAN functionality.
They also announced the 10-inch Elonex WebBook, which is VIA powered. It's only a prototype for now, but if Elonex does end up bring it to retail, then you'll also find an integrated TV tuner too.
Via Netbook Italia.
September 10, 2009 at 10:53 pm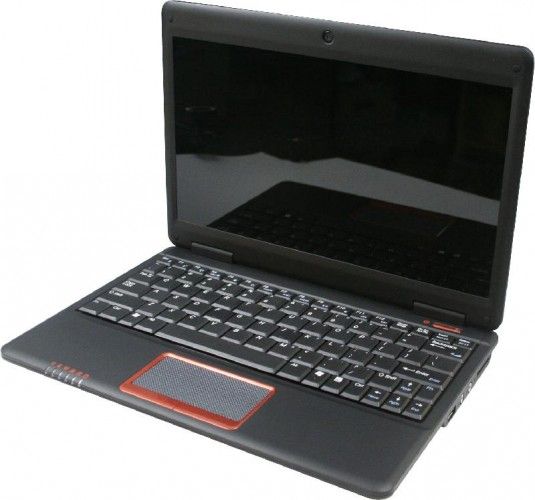 VIA has announced a new 11.6-inch mini-notebook that will be branded by wireless carriers. The eNote Turnkey Solution will come with a mobile WiMAX technology, it will be powered by a 1.3GHz VIA Nano CPU & VIA VX800 IGP chipset and up to 2GB RAM.
The eNote supports a WXGA 11.6-inch display that comes with Via Chrome9 graphics. It also has a HD video processor that supports MPEG-2, MPEG-4, WMV9, VC1 and DiVX video formats. It's reasonably light too, weighing just 1.3kg. Other features include three USB ports, 4-in-1-card reader and 2MP webcam. It will have a 4-cell 2600mAh lithium ion battery as standard that should deliver around 3 hours of battery life. Check out a video of it in action after the break. Read more
September 10, 2009 at 10:05 pm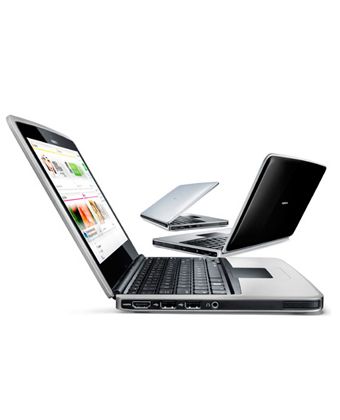 Nokia's first entry into the netbook space, the Booklet 3G, has officially hit pre-order via the Italian Nokia store. However, whilst the pre-subsidy cost was believed to be €575 at the recent Nokia World conference, the Booklet 3G has appeared for pre-order at €699.
This is exactly what we feared in our recent article "Opinion: Why the Nokia Booklet 3G is a disappointment". Nokia sometimes quote pre-tax prices for its product launches and it seems they have done the same here. Taking the €575 price and multiplying by a 20 percent tax rate brings us to €690, near enough the pre-order price.
Whilst, many felt that the €575 price was high enough as it was, it looks like the price-point will be a lot higher than people initially expected. Whilst there is no firm price for the UK yet, it's increasingly looking like it will be closer to the £600, rather than £500 mark. Despite the high price, the Booklet is likely to be offered via mobile contracts with a smaller upfront cost.
Via Notebook Italia.
September 10, 2009 at 8:23 pm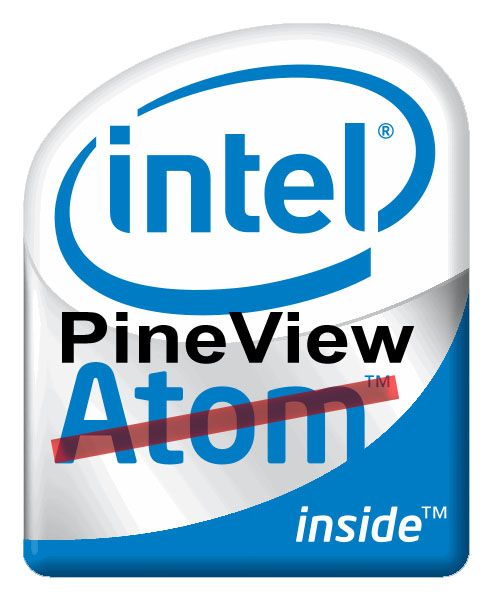 Intel is set to launch official details on its next-generation Pineview Atom processors at the Intel Developer Forum on September 22nd. This should include the full family of chips targeted for netbook/mobile devices as well as pricing.
Fudzilla has pre-empted the pricing announcement, claiming to have details on the price of both the 1.66GHz N450 Atom and 1.83GHz N470 Atom processor. Whilst, it's not surprising to learn that the faster N470 will cost $75, I did expect the N450 to a bit cheaper than the quoted price of $64.
This compares to the current most popular CPU for netbooks, the 1.6GHz N270 Atom, costing just $44. This means that newer netbooks will be tangibly more expensive than current netbooks based on the inclusion of Windows 7 and the newer Intel Pine Trail chips.
September 9, 2009 at 9:12 pm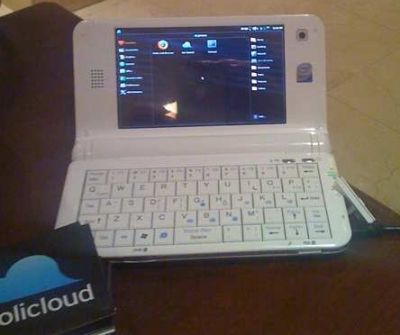 Up until now, Jolicloud has not been able to run on netbooks that come with Intel's Poulsbo (US15W) chipset. This chipset includes GMA500 graphics that doesn't have the best driver support. However, Jolicloud has confirmed that the next version will have support for GMA500. The picture to the right shows it working on an UMID M1 MBook.
This opens up Jolicloud, the Linux-based operating system, to netbook users of the Dell Mini 10, Asus Eee PC 1101HA & T91 and Acer Aspire 751. They have also announced the next round of supported apps. One of these that will be important to us Europeans is a one-click install of Spotify.
Via Netbooked.