March 30, 2009 at 1:48 pm
As we revealed last week, Acer is to launch a new series of netbooks under the 'Aspire One Pro' name. As the name suggests, these netbooks will be targeted towards business users and 'prosumers'. At that point we didn't have any images as to what the new series would look like. We now do, thanks to Macles, and we have to say that it has some very elegant design cues. This includes chrome hinges as well as a carbon fibre bar all wrapped in a slimline form-factor. The 'Aspire One Pro' logo can also clearly be seen on the top-right of the screen display.
The pictures also seem to suggest that 'Pro' series will have a choice between Windows and Linux operating systems. The keyboard shows that instead of a Windows key towards the bottom left, there instead sits a 'Home' icon. These are normally found on units that run Linux. This seems strange to us, given the predominance of Windows systems that are normally targeted to business users.
The first netbooks to be launched under the new name are an 11.6-inch and 10-inch model. It is believed that the 11.6-inch netbook will be powered by a low-power 1.6GHz Z530 Intel Atom CPU and 1GB RAM and come with a 160GB hard-disk drive. It will weigh only 1.25kg (2.8lbs) and be just 1-inch thick. We don't have any firm details on the specifications of the 10.2-inch Acer Aspire One Pro. Apparently both versions will be available in HDD and SDD configurations. Click through for more photos of the Aspire One Pro. Read more
March 30, 2009 at 11:08 am
Gigabyte's upcoming netbook with a twist, the 10-inch Booktop M1022, has just appeared on the US FCC database. A number of documents appear on the website including external/internal photos, a better idea of its features and also a user manual. The Booktop M1022 is a white netbook that comes with its own docking station. The docking design allows you to connect a keyboard and monitor so that you can use it as a desktop at home and then take it out of its dock when on the move. When docked, the Booktop will output a resolution of 1024 x 768 pixels, which may disappoint those of you with higher resolution monitors. Read more
March 30, 2009 at 8:52 am
The Samsung N110, a refresh of the best-selling NC10 10-inch netbook, has gone up for pre-order in the US. The N110 (N110-12PBK) has appeared on Buy.com for $441.99 and also at CompSource.com who have it for $450, both are offering free shipping. No actual release date is listed on either site.
Whilst no official release date has been announced, Samsung talks of an April release date in its press release. Therefore it cannot be too much longer before we start to see pre-orders open up on other sites such as Amazon. When keeping an eye out for US pre-orders, you may want to search by the manufacturer part number which is NP-N110-KA01US. Read more
March 30, 2009 at 8:18 am
We would just like to apologise as Netbook Choice was down for the last nine hours or so. A spike in traffic over the weekend meant that we exceeded our hosting bandwidth. It's a nice problem for us to have, but it obviously meant our site was offline for a bit. We've upgraded our hosting package so hopefully it shouldn't happen again.
Thanks once again to all of our readers and if you have any comments or suggestions for NbC please drop us a line!
March 29, 2009 at 6:28 pm
To end the week, we thought we'd post this amusing cartoon we came across. With the global economy in recession, the low-cost netbook segment is one of the main growth spots in the computer industry right now. It has been so successful that many companies want to try and latch onto the netbook segment somehow… check out the cartoon after the break! Read more
March 29, 2009 at 5:48 pm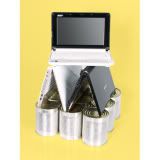 Netbooks with integrated 3G modules are generally very quick to broadcast their own signals and offer good signal strength according to a recent study by 'Connect' magazine. It studied three netbooks for wireless data transfer and by far the fastest was the Acer Aspire One A150x 3G that has an in-built Qualcomm module. The Acer was even faster than 3G phones that have been available over the last two years. Even the Samsung NP- NC10 3G and LG X110 came out with above-average performance compared to the 3G mobile phones.
With many mobile operators now offering netbooks as part of subsidised data packages, there will come a point that most netbooks will have the ability to access the internet in our view. Whether that means 3G modules will be included in most models from the start or we start to see the adoption of ARM based netbooks that are always connected to a 3G network, this can only be a good thing, giving more choice to consumers.
March 29, 2009 at 5:06 pm
Verizon recently confirmed that it will start to sell subsidised netbooks, the main question that is now on everyone's lips is which netbook(s) will it stock? We yesterday hypothesised that it could be the HP Mini 1000 and that rumour is now gaining ground.
BoyGeniusReport received an approved device list from one of its sources that seems to confirm that the netbook it has chosen does indeed seem to be the HP Mini 1000. More specifically, it will stock the 1151NR variant of the Mini 1000. This model has a 10.1-inch (1024 x 576) display and is powered by a 1.6GHz Atom N270 CPU, 1GB RAM and 80GB hard drive. It comes with a 3-cell battery and weighs 1.1kg (2.45lbs). The 1151NR is found in HP's business line, so the likelihood is that it may be offering the deal to business customers as well.
The netbook was approved by Verizon Wireless on March 24th. No release date or pricing has been confirmed thus far, although a $99 upfront cost with a two-year contract has been muted. A larger picture of the supposed evidence has been attached after the break. Read more
March 29, 2009 at 4:23 pm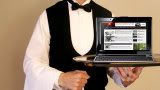 David Pogue's "Mr. Compromise" of the New York Times has finally taken a look at netbooks with a 'review ' of four different models. He asked Joanna Stern of Laptop Mag which ones to look at and came up with four 10-inch models. The Asus Eee PC 1000HE, HP Mini 1001, MSI Wind U120 and Samsung NC10.
Surprise, surprise he found that owning a netbook requires making compromises. Some of the issues with each netbook include mouse buttons on either side of the touchpad for the HP Mini 1001, the Samsung NC10 costs too much, the Asus is too heavy and the Wind doesn't have upgradeable memory. The video doesn't cover any new ground but is meant to be a bit of light relief, check it out after the break. Read more
March 29, 2009 at 3:21 pm
Whilst Microsoft may hold the dominant market share for netbooks, there's no certainty that it will remain the leader. There a number of Linux-based operating systems being tailored for netbook use from a number of different parties. ARM, who design low-cost, low-power processors, is knocking on the door of the netbook world and its CEO expects at least ten ARM-based netbooks this year. As it does not make x86 processors, using Windows for these netbooks is not an option. While many have talked about Google's Android as being the most natural Linux-saviour, Laptop Mag's Mark Spoonauer argues that it is in fact Palm's Web Operating System that could make waves in the netbook market. Read more
March 29, 2009 at 2:17 pm
Good news for those of you who have been trying to decide between an 8.9-inch and 10.1-inch Acer Aspire One netbook. Portable Monkey has posted a thorough run-through of the main differences between the two netbooks including lots of comparison photos between the two. Both systems were tested with a 3-cell battery (he didn't have access to a 6-cell battery) and came with similar specifications (1GB RAM, 160GB HDD, WiFi 802.11g and Windows XP Home).
Overall both netbooks were found to have very bright glossy displays, with the 10-inch mode slightly easier on the eyes. The 9-inch model was very loud in use and could distinctly be heard in the next room whilst the 10-inch model was super quiet. The 9-incher also had the worst speakers that they had experienced on a netbook, maybe something to do with the hard-drive failures being seen when playing certain songs? However, the 10-inch model lost brownie points for using the same keyboard as used in the 9-inch one.
Battery life on the 3-cell battery was 2 hours and 3 hours on the 9/10-inch models respectively, strange that the 10-inch model is significantly more power efficient. You should expect around 6 hours from the 4400mAh 6-cell battery. Click through for a full summary on the key comparison points. Read more
March 28, 2009 at 6:18 pm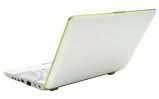 LG is pulling back from its laptop and netbook strategy as a result of the weak global economy and consumer demand according to Mobile Today. It will instead focus its efforts on the faster-growing smartphone segment in the short-term before returning to a 'full' netbook strategy in 2010. The manufacturer is expected to release smartphone devices later in 2009 that will be thinner, have better camera quality and memory, or will be more basic, to meet even lower prices.
As far as I'm concerned LG didn't really have a full netbook strategy to begin with. There is only one netbook model on the market currently, the X110, and the second, the X120, is due to appear in the next couple of months. The LG X120 does look like a smart bit of kit but with all of the competition in this particular segment, maybe LG did not want to suffer the margin hit just to compete. We do look forward to the arrival to the X120 netbook, however if this story is true it could be a while before we see another LG-branded netbook.
March 28, 2009 at 5:54 pm
We're not entirely sure how serious to take this, but apparently Acer's hugely popular 8.9-inch Aspire One netbook will trash the hard drive if you play music through it too loudly according to some users on HardwareCult. One of the tracks it has taken a particular dislike to is U2's Hold Me, Thrill Me, Kiss Me, Kill Me, which several users have been able to replicate the problem with.
Ultimately, the drive will undergo "complete catastrophic failure, talking with it all the user's data", according to Tigre Marino who made the original claim. The result is "read errors, ATAPI errors on the system log, and even logging Raw Read Errors on the hard drive's SMART health monitoring system."
"You'll see, after some seconds, the hard drive LED will get stuck and the machine could freeze or get a BSOD. Lower the volume or plug in some headphones and the problem magically disappears," Tigre said.
It's unknown what causes the problem. Is excessive vibration to blame? Does the video emit a frequency that causes part of the HDD to resonate? Is it simply electrical or magnetic interference? Others have suggested that when the speakers are on full, the HDD received insufficient power. All of the users that reported this were running XP rather than Linux and had hard-disk drives rather than solid-state drives. For those that dare to try it themselves, the U2 video can be found here.
March 28, 2009 at 4:40 pm
Verizon will start to sell 3G-enabled netbooks in its stores from early as next month according to InternetNews. This is hardly surprising news as it seems to be a natural evolution for wireless carriers. We have already seen a number of global operators offering subsidised netbooks to boost revenues. Many of them see data as a growth area offsetting the decline in voice usage.
"Verizon Wireless could start selling netbooks as early as next quarter in Verizon Wireless Communications stores," said Brenda Raney of Verizon's product distribution and marketing. "No further information on pricing or availability at this point."
We still don't know exactly whom Verizon will partner with, although there were recent rumours of a HP partnership. Could we see HP Mini 1000 netbook being offered soon? It will be going up against AT&T who sells $99 Acer netbooks with a 24-month contract at $60 per month through Radioshack stores. AT&T also sells the Dell Mini netbooks through its own website.
Via EeePC.net.
March 28, 2009 at 1:54 pm
The Asus Eee PC 1004DN is the company's first netbook with an in-built optical disk drive. It was first spotted at CES earlier in the year, however not everything that turns up at CES becomes a reality. It is of course, not the first netbook to come with an optical disk drive. Japanese manufacturer Kohjinsha has done it with its SX line, and JVC made a mobile mini notebook with DVD as well. But the Kohjinsha model isn't available outside of Japan, and JVC's offering is dated.
Yesterday's news that the 1004DN is expected to launch in April brought a commercial release that one step closer. The move is likely to blur the line between netbook and notebook even further. Today we have managed to get our hands on a full list of technical specifications on the 1004DN. Click through after the break for the full detail and the first official press shot. Read more
March 28, 2009 at 10:31 am
The 'HD' resolution HP Mini 2140 will release on April 6 in the US according to Digiffiti. This new version will come with a high-resolution (1366 x 768) 10.1-inch LED backlit screen which is a big improvement over the current 1024 x 576 resolution display found on the current Mini 2140.
It will apparently cost only an extra $25 from the current Mini 2140. This price seems too good to be true, after all, when choosing between the two versions, who would opt for the original 2140 given how small the price difference is? However this price has been verified from several sources so it's great news for consumers if true!
So it appears that in just under two weeks we should finally start to see the HD Mini 2140 appear in retail channels. There is some concern that could the higher resolution mean that the text may be too tiny to read comfortably on the 10-inch screen? Personally, I think it should be easier to read than on the 8.9-inch (1280 x 768) display of the HP Mini 2133. We can't wait to see one for ourselves to find out.