Following on from this morning's HP announcement of new HP Mini netbooks for the US market, we now have details of the UK SKU. The HP Compaq Mini 110c (effectively the same as the US Mini 110) will launch in the UK in August with a suggested retail price starting at £279.
The features are very similar to the HP Mini 110 and, importantly, the 110c will also come with the optional video accelerator found in the Mini 110. The swirl-lid design that adorns the US Mini 110 and 1101 is not present here. Instead it has a high-gloss 'infinity' imprint finish. Read more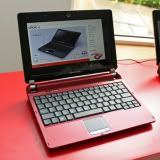 We first heard of the 11.6-inch Packard Bell dot m and 10.1-inch dot s netbooks back in early April. Whilst the European launch details were revealed, we didn't have any news on the UK side of things. Well the official UK pricing details have now been announced – the smaller dot s will cost £299 whilst the dot m will cost £369 when it launches in July.
Acer-owned Packard Bell, has based the 11.6-inch dot m netbook on the Aspire One 751. If you compare them side by side, the keyboard and hinges look similar. Things are slightly different under the hood, with it powered by a AMD Athlon L1110 CPU and will support memory up to 2GB and a hard-drive up to 320GB. Other options for the dot m include an Intel Atom CPU, Windows Vista and 3G. Read more
The Asus Eee PC 1002HAE is a pretty refresh of the 1002HA, which comes with an aluminium skin, chiclet keyboard and the faster 1.66GHz N280 Atom CPU (the 1002HA has a N270 Atom). Portable Monkey has reviewed the Eee PC 1002HAE and it seems that there are other minor changes too that affects the overall proposition.
Upgradeability is made difficult as the screws on the access panels have been plugged which makes them difficult to lift without damaging the case (or at least without the right tools). The battery should last around three to four hours, acceptable but other models are now pushing battery lives double this. This battery sits at the front of the netbook, which will mean higher capacity batteries will cause it to tilt backwards. Also, there are some instances of flex on the keyboard and despite having an aluminium exterior, the weight wasn't found to be different to the 1002HA.
On the positive side, the netbook has good build quality, with relatively lightweight chassis. The display is matte, which automatically earns it brownie points. The large touch-pad allows for multi-touch gestures and the whole device runs cool and quiet. The Eee PC 1002HAE is only available in Japan for now. Click through for the key review points after the break. Read more
Following on from their recent Samsung N120 dismantling, Netbook Italia have moved onto the 11.6-inch Acer Aspire One 751. Whilst many of the reviews have bemoaned about the low performance under the hood, there's no denying it's an attractive netbook with glossy high–def display, full-sized keyboard and ultrathin chassis.
The Aspire One 751 already provides separate access panels for the HDD, memory and Wi-Fi. When opening the Wi-Fi slot, it can be seen that there are two Mini PCI-E slots with only one in use. The 751 is completely taken apart in the disassembly guide, the motherboard and internals are all laid out for all to see. Modders out there can add 3G HSDPA functionality to the 751. See a selection of pictures after the jump. Read more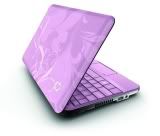 HP has today announced a few new members to its HP Mini netbook family. The three different models are the Mini 110 XP, Mini 110 Mobile Internet (Mi) and business oriented Mini 1101. The series will come with a 10.1-inch (1024 x 576) matte display. An optional 1366 x 768 HD display will be available in July for around $30.
It will come in a number of configurations, powered either by a 1.6GHz N270 or 1.66GHz N280 Atom CPU. Other features include a 92 percent keyboard, webcam, microphone, VGA port and 5-in-1 card reader. The series will weigh around 1.1kg (2.33lbs) and measure just over 1-inch in thickness. Read more
I'm not sure whether there was a US review embargo that lifted today or simply the way the stars lined up, but seven reviews of the 1008HA Seashell have cropped up today. We thought we'd flag this to anyone who may be trying to decide whether this is the netbook for them. The almost universal view is that the 1008HA's design is quite special against the bland backdrop of most netbooks. Despite the design, functionality has not been sacrificed.
In case you are wondering why we labelled the above post as 'number two' is that we already did a review roundup of the 1008HA Seashell a few weeks back, when a few UK reviews appeared. Six of the reviews that cropped up today were from major US publications and the seventh was from NetbookNews.de. We have listed them all after the break. Read more
For those of you contemplating purchasing the MSI Wind U115 Hybrid, then you may want to have a flick through of the manual which has now appeared online. There are also a number of drivers, utilities and BIOS listed on the official product page.
Interestingly, the manual also talks about a SKU with a 1.86GHz processor option, although this hasn't been announced yet. It also goes through all of the power management features including both ECO and Hybrid storage power saving functions. The English manual can be downloaded here.
In related news, TrustedReviews put the netbook through its paces today and scored it 6/10 overall. They found it didn't offer enough value for money with an uninspiring design. The 10-inch Wind U115 netbook is available to purchase in the UK for around £450.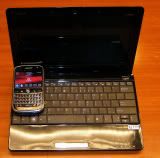 The Eee PC 1005HA Seashell could be a potential best-seller for Asus. It shares the styling of the 1008HA but comes with a removable battery, full-sized VGA and has no flaps covering ports. Yes, it may not be as thin or as light as the 1008HA, but it will be cheaper and should offer better battery life too. NetbookNews.de has gone hands-on with the device and posted a video and a number of photos of the new Eee PC.
They compare to the Eee PC 1008HA, Samsung NC10 and even a Blackberry handset. The video shows that the 1005HA will come with a glossy lid and display, similar to the 1008HA, I was really hoping they'd choose a matte display. Apart from a slightly protruding bottom (to account for the 6-cell battery), the two models do look very similar. Interestingly, the version they booted up was running Windows 7 Starter Edition. There's no word on UK pricing yet, but in Europe it is expected to cost from €299 (with N270 Atom) and €349 (with N280 Atom). If you want to see some more comparison pics, then NewGadgets.de has a number of photos of the 1005HA against the 1008HA here. Check out the 1005HA video after the break. Read more
The Asus Eee PC 1000HV was first spotted last week and it looks like this model is already hitting retail in Italy. One of the users of EeePC.it, managed to get hold of one and has given an indication as to what this new Eee PC is capable of.
As a quick recap, the 1000HV is very similar in terms of specs to the Eee PC 1000HE. However, one of the key areas in which it differs is that it packs discrete graphics with an ATi Radeon HD 3450 GPU with 256MB memory. This should, in theory, give it a significant boost when watching HD content or playing games. Read more
NEC has announced one of the thinnest and lightest 10-inch netbooks that I've seen. The VersaPro UlraLite VS weighs just 725g and is only 19.4mm (0.76") at its thickest point. It also comes with some impressive tech under the hood with a 1.86GHz Z540 Atom CPU, GMA 500 graphics, 64GB sold-state drive and a high resolution 10.6-inch display with 1280 x 768 pixels.
To make sure this tech can fit into its slender chassis, the keyboard sits at the bottom and this means there is no room for a touchpad. Instead you'll find a trackpoint to navigate, which I prefer anyway. You'll also find that they've managed to squeeze in three USB ports, Ethernet and Wi-Fi (b/g). The standard battery should last you 4.7 hours with the larger capacity battery lasting 9.4 hours.
There are some very high performance components in the NEC VersaPro, all packaged in an extremely skinny case. However, as you may have guessed this doesn't come cheap, not at all. It is now on pre-order in Japan for 99,750 Yen ($1051, €754, £662). However, once it hits retails in June the price will increase to an eye-watering 176,000 Yen ($1,858, €1,333, £1,171). Now if that isn't a pre-order incentive I don't know what is!
Via Engadget.
Gigabyte will shortly be releasing the 10-inch M1022 Booktop. This is a netbook with a twist, as it has a docking station that allows you to connect a keyboard and monitor. The idea being that you can use it as a desktop at home and then take it out of its dock when on the move.
NetbookNews.de went hands-on with the M1022M, which comes with a 10.1-inch glossy (1024 x 600) LED backlit display powered by a 1.6GHz N270 Atom CPU and 945GSE chipset. Several SKUs will be available including the M1022P that comes with a higher resolution 10.1-inch (1366 x 768) display and 1.66GHz N280 Atom CPU plus GN40 chipset combination. Other features include 1GB RAM (2GB supported), a 160GB hard-disk drive, Wi-Fi (b/g/n), Bluetooth 2.1, a 1.3MP webcam and a 6-cell 7800mAh battery. Read more
It looks like Sony has finally cottoned onto the fact that Vista just doesn't offer the same kind of performance on an ultraportable device compared to XP. The new Vaio VGN-P50 will be sold with Windows XP SP3 and will come with a 1.33GHz Z520 Atom CPU as standard. Expect to see the same 8 inch (1600×768) screen, 1GB of RAM and an 80GB HDD. Wi-Fi 802.11B/G/N, Bluetooth 2.1 are all supported, as well as DoCoMo's WAN network.
Sony also has a number of hardware options for this SKU including the latest 2.0GHz Z550 Atom CPU as well as the option of a 256GB SSD. A number of snazzy colours are also being offered including Garnet Red, Crystal White, and Peridot Green, and Pyrite Gold. Some of these colours have a laser pattern etched into the lid. The new Vaio P will be offered in Japan only (for now) from June 6th.
Via Akihabara News.
Okay, I know this is the fourth post today regarding the Lenovo Ideapad S12, but I see this launch as quite important given that it will be the first netbook to come with the ION-platform. However, I have some very disappointing news for us Europeans. The ION-based Ideapad S12 SKU will NOT be coming to Europe.
This has been confirmed to us by Adrian Horne, who deals with Lenovo's media relations across the EMEA region. I find this news quite perplexing. A lot of the buzz today has surrounded the emergence of ION inside a netbook and the (hopefully) genuine improvement we'll see over the typical Intel Atom platform. I'm sure there are a number of people that are genuinely excited by this release and will associate the S12 as the 'ION netbook'. When it does launch here it may cause a lot of confusion with people expecting ION under the hood. Read more
A few publications have already managed to preview the Ideapad S12 netbook that was announced today. We have attached some hands-on videos of the S12 below from Laptop Mag and GottaBeMobile (GBM). Some of the new things we learnt while watching the videos is that it will come with a glossy display which may put off some. Given the size of the chassis, it will come with some physical buttons that you don't normally see on netbooks. This includes a wireless on/off switch, as well as a quick-start button for Splashtop (instant-on OS) and a one-touch button for backups.
The 100 percent keyboard was found to be very comfortable and the touchpad will come with multi-touch gestures. Upgradeability will also be no problem as there are separate access panels for both the HDD and RAM. We have also included a couple of extra videos from GBM which shows the ION versus Atom when it comes to HD video content and a comparison as to how Call of Duty IV fares too. Check out the videos after the break. Read more
Following our earlier report, Lenovo has made the Ideapad S12 official. Our earlier article talked about netbook manufacturers moving to larger screens. Whilst it can be debateable whether a 12-inch device is a netbook or notebook, Lenovo picks no bones as to where it sees this device sitting. The press release refers to the S12 as the "company's first 12-inch netbook".
As we speculated this morning, the S12 will be available in three different chipset configurations. You will be able to buy it with the Atom (N270 + 945GSE) platform, ION platform or VIA Nano processor. The S12 will come with a 12.1-inch (1280 x 800) LED backlit display, 1GB RAM and a 160GB HDD. Other features include wireless draft-N, Bluetooth, three USB ports, 4-in-1 card reader. The Atom and VIA versions will come with an Expresscard slot whilst the ION version will come with a HDMI video out. Read more