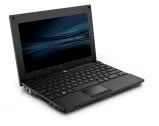 The business-targeted HP Mini 5101 netbook became available in the US last week. However at the time only the Windows XP model was available, it now appears that a SUSE Linux option is also available along with upgrade options for a high-resolution (1366 x 768) display and 6-cell battery.
Both 6-cell battery and HD display options cost a reasonable $25 each to upgrade. Other upgrade options include 2GB RAM for $25 (not included for the XP Home SKU), 3G modem for $125 and a variety of HDD and SDD storage options. A Draft-N Wi-Fi module is also available for $20. These customisation options are available right now.
Via Liliputing.
Acer will launch a revision to its Aspire One D250 netbook that will sport a high-definition (1280 x 720) display as opposed to the 1024 x 600 resolution found on the current model. This will be the last revision of the D250 before it releases new models based on the Pine Trail platform early next year according to Fudzilla.
The rest of the specifications will remain the same and include a 1.6GHz N270 Atom processor, 1GB RAM and a 160GB HDD. The D250 is a reasonably lightweight (1.33kg) and thin model, coming with a 6-cell battery. The new revision is already available on pre-order from a retailer in Norway, it is scheduled to launch on 30 July 2009. There is no word on other regions for now.
July 28, 2009 at 12:00 pm
The Sony Vaio W netbook is due to launch in the middle of next month, however Computer Shopper already has a review up of the device. We didn't really learn anything that we didn't already suspect. It wins marks for its interior design, high-resolution (1366 x 768) display and touchpad. However, it was let down by a poorly performing 3-cell battery, small keyboard and only two USB ports.
Whilst the model does come with a 6-cell battery option, the upgrade is prohibitively expensive. They did reiterate though that if you're not too concerned regarding battery life, then the high-resolution screen really is excellent. They even went as far as saying that once you've used a screen like this, there's no going back, mainly due to a lack of scrolling issues that you normally find on a 1024 x 600 netbook display. Click through for the main review points. Read more
July 28, 2009 at 11:12 am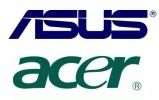 Two of the biggest netbook manufacturers, Asustek and Acer, will not be releasing any new netbook models in the second half of 2009 according to Digitimes. Both companies will instead concentrate on its CULV-based ultra-thin line-up during H209. The move by Intel to delay the launch of its Pine Trail platform (including Pineview processor) to Q1 2010 is one of the reasons both companies new netbook models have been pushed back.
This does not extend to models already announced, therefore Asus will still be launching its Eee PC T91 and T101 touchscreen netbooks. The report also suggests that an Asus Android model will launch in the second half. However, previous reports suggested we would not see an Asus Android netbook until Q1 2010 at the earliest. The Eee PC T101 is expected to launch after the launch of Windows 7 (October 22nd).
Acer will let its 10-inch Aspire One model fly the flag for Acer in H209 and it continues to reduce netbook marketing budgets and R&D spend in this area. Acer did announce an Android netbook that would dual-boot with Windows XP. The report says that the launch of this model has been postponed from its pencilled-in August launch date due to weak demand. There was no mention as to when it would likely launch instead.
If you are tired with how old Windows XP is looking, especially with the imminent launch of Windows 7, then you may want to give XPize a look. It is a free application that allows you to update the look of XP with a new theme and user interface.
The team behind XPize run the software on a volunteer basis, along with similar software for Vista called Vize. As you can tell from the screenshot, the larger icons are well suited to netbook displays. You can check it for yourself here.
Via JKOnTheRun.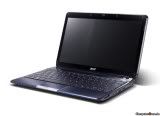 The CULV-based Acer Aspire Timeline 1810T has only just been officially announced and it already appears to up for pre-order from a German retailer called Notebook.de for €499 including tax. Another 3G version is also listed that comes with 3GB RAM for €599. Delivery is next expected for another 2-3 weeks.
The Timeline 1810T is an 11.6-inch model with 1366 x 768 LED backlit display. It comes with a 1.4GHz ULV processor, comes with GMA 4500MHD graphics and supports up to 4GB RAM. We didn't have an idea on storage options before, but it seems that the base model will come with a 250GB HDD. We'll come back to you with a UK price as soon as it pops up.
Today's Apple tablet rumour of the day comes from the respected Financial Times, who are reporting that the company is aiming for a September launch date for a new project aiming to boost the interest in digital music albums. It is expected that this tablet device may be launched alongside this project, codenamed "Cocktail".
Apple is apparently working with EMI, Sony Music, Warner Music and Universal Music Group on Cocktail in a move to revive interest in high-margin music albums, rather than single download tracks. The service will include bundling an interactive booklet (like you would find in traditional CD case) when purchasing a digital album. This would include sleeve notes and other interactive features. You would also be able to play songs directly from this booklet without going back to iTunes.
Little new news on the tablet was given. The report mentions a 10-inch touch-sensitive device, kind of like a larger iPod Touch. Previous rumours suggested a 2010 release for the device. There are now so many different stories on this it's difficult to know how this device will shape up. The report says that it won't be 3G enabled, yet will be great for watching movies. Others suggest it could be a competitor for the Kindle.
July 27, 2009 at 12:45 pm
Trying to get high-definition video content playback is a no-go for most netbooks out there. Even the latest Intel GMA500 graphics included in the Poulsbo chipset has poor driver support, which means you'll have to wait for ION-based netbooks to get some real HD goodness. However, Broadcom has an alternative with its Crystal HD Media Accelerator.
This PCI-E card enables "flawless playback of all internet steaming video" according to the company, along with support of 720p and 1080p (H.264) video content. It is currently included as an option with the HP Mini 110, although it hasn't appeared on other netbooks thus far. Not wanting to wait, Terracode decided to mod their Acer Aspire One with the HD accelerator (BCM70012). Read more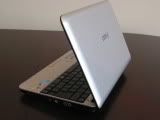 The MSI Wind U115 Hybrid netbook is perhaps the most fully featured netbook on the market today. It's driven by the powerful Poulsbo Intel chipset and an energy-efficient Z520 Atom processor. The biggest talking point surrounding the U115 Hybrid, however, is its dual hard-disk drive and solid-state storage. A combination of the above factors leads to the longest battery times we've seen in a netbook thus far.
All of this comes at a premium though. At around £450 the U115 Hybrid is significantly more expensive than its 10-inch peers. Despite the technology involved, this price may have been easier to swallow had the design moved on since the original Wind U100. However, if you have the spare cash and are not dictated by the fashionista, then the U115 Hybrid definitely deserves your consideration. Read on for our thorough review, including some comprehensive performance and battery tests. Read more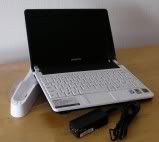 The Gigabyte Booktop M1022 is a 10-inch netbook with a twist. It comes with a docking station that allows you to connect a keyboard and monitor. The idea being that you can use it as a desktop at home and then take it out of its dock when on the move. Slashgear has posted the first proper review we've seen of the Booktop and their impressions were favourable.
They questioned whether you would want to use a system based on the N270 Atom processor as a desktop, but for light use it probably would be fine, with the added bonus of using full-sized peripherals. Whilst the Booktop does come at a premium to its peers, they found that the build quality and battery life were one step above its rivals. Read more
Rumours have circled for a few months that Acer was planning to release an 11.6-inch CULV-based ultra-thin to sit alongside or replace the Aspire One 751 netbook. Earlier this month, macles gave us the first details of this device (the Aspire Timeline 1810T) and now we can report that this ultra-thin has its own official Acer product page.
The product page reaffirms the previous report in terms of specifications. The Aspire Timeline 1810T will come with an 11.6-inch LED backlit display with resolution of 1366 x 768 pixels. It will be powered by an ULV (ultra-low voltage) processor (1.4GHz Intel ULV SU3500), Intel GS45 chipset with GMA 4500MHD graphics. It will support up to 4GB RAM and come with various storage options. Read more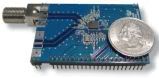 Hauppauge is partnering with MaxLinear to provide a TV Tuner that can be used for netbooks. The new integrated mini-card is based on MaxLinear's MxL5007T chip, which is already used in the market and supports nearly every major TV standard.
This includes DVB-T, ATSC, DVB-H and DTMB. The card can also handle unencrypted HD channels. The card is power efficient and consumer just 350mW of power whilst in use. This makes it around 50 percent more energy efficient than other TV Tuners. It's likely that we could start to see more and more netbooks embedded with TV Tuners, which is something of a rarity today.
Via Liliputing.
The Toshiba Dynabook UX, also known as the NB200 in Europe and NB205 in the US, will be getting a WiMAX option in mid-August. This is in Japan only and follows a number of manufacturers including Samsung and Sony bundling WiMAX into their ultraportable category.
Intel has partnered with UQ Communications to promote the widespread deployment of WiMAX Services in Japan. UQ is committed to cover 90 percent of Japan with its WiMAX service by 2012.
The WiMAX-enabled Dynabook UX will have the model number US/27JBLMAJ. It uses Intel's WiMAX/WiFi Link 5150 chipset, which uses the same chip to deliver both wireless services. According to Slashgear, it is the first time such a chip has been used on a netbook. The remaining specifications of the Dynabook UX are the same (N280 Atom, 1GB RAM and a 160GB HDD).
July 24, 2009 at 12:55 pm
The HP Mini 5101 netbook is marketed to business users and is the successor to the well-received HP Mini 2140 that will be discontinued in the next few months. It features a magnesium alloy chassis, a fast 7200RPM hard-disk drive, a 95 percent chiclet keyboard with HP DuraKey finish and a protective HDD system called HP 3D DriveGuard.
A couple of sites (Laptop Mag and PC Mag) have published reviews of the HP Mini 5101 netbook. Both sites praised the Mini 5101 for its solid and attractive design (important if you're on the road a lot) as well as its performance. However, battery life wasn't as good as some netbooks that are cheaper than the 5101. Check out the key review points after the jump. Read more
July 23, 2009 at 10:03 pm

DeviceVM's instant-on operating system, Splashtop, will get new "instant search" functionality from September 2009. Splashtop is installed on a number of netbooks from various manufacturers including Lenovo. Splashtop-powered devices will provide a branded search box, which comes alive within a second of the PC being powered on.
DeviceVM has partnered with three different search providers to provide search functionality in various parts of the world. Yahoo! Will serve the US, Japanese and European markets, Baidu will target China whilst Yandex will cater for Russia.
"Splashtop recognizes the increasing importance of web search, making it faster and more convenient than ever before. Through this new collaboration, search is available as soon as the PC is turned on, before the browser – or the OS – is even running," said Mark Lee, CEO of DeviceVM.