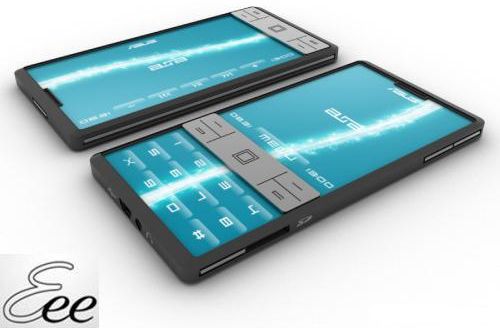 Asus is apparently planning to launch an Eee PC netbook that will come with a built-in mobile phone. The phone will double as 3G connectivity for the device so that you have access to it whilst in the netbook and when you're out and about you can just take the phone out and use that instead (this means you can use the same SIM card for both devices).
The phone module is already on sale from an Israeli company called Modu, who also provide a number of feature-phone shells that it can slot into. You can have a number of different shells depending on what you need i.e. one shell is in the form of a photo frame displaying pictures stored in the phone. Read more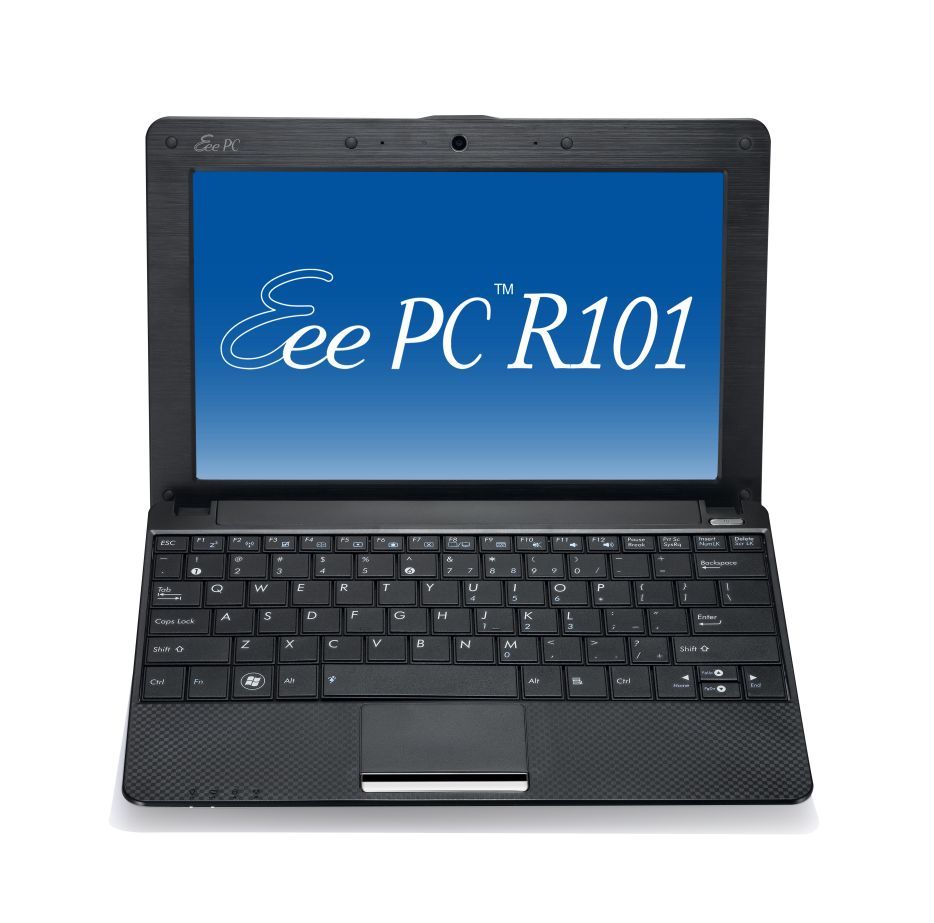 The first picture of the Asus Eee PC R101 has emerged on a German retailer NotebooksBilliger.de. It doesn't reveal too much new information, but we now know that it comes with a chiclet keyboard and patterned palm rest.
In terms of specs, the Eee PC R101 is typical netbook fare with a 10.1-inch (1024 x 600) display, 1.66GHz N450 Atom, 1GB RAM, 250GB HDD and Windows 7 Starter. The 4400mAh battery should be good for 9.5 hours. The model listed is available for pre-order at €299. Read more
April 30, 2010 at 3:29 pm
Netbooks have generally grown in size since they were first launched back in 2007. So it seems somewhat strange that Asus has resurrected the 8.9-inch netbook with the Eee PC 900AX.
However, rather than taking the opportunity to redefine the 9-inch form-factor this appears to be more of the same with specs from yester-year. This 8.9-inch (1024 x 600) netbook sports a 1.6GHz N270 Atom processor, 1GB RAM, a 160GB HDD and Windows XP. Other features include two USB ports, Wi-Fi (b/g) and a 4-cell battery. Availability remain a mystery for now.
Via Notebook Italia.
April 30, 2010 at 2:53 pm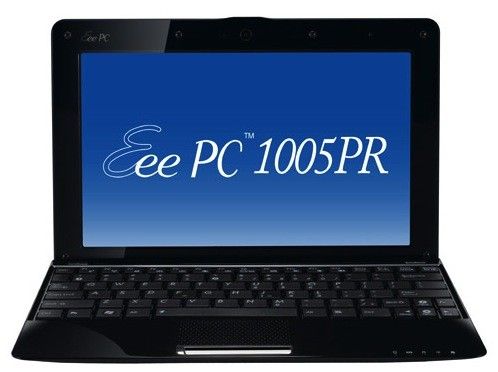 The Asus Eee PC 1005PR with high high-resolution (1366 x 768) display and Broadcom Crystal HD media accelerator is now shipping in the US through Newegg for $399.99 with free shipping.
Apart from that the specs shouldn't differ from other Eee PC 1005P netbooks including a 1.66GHz N450 Atom processor, 1GB RAM, 250GB HDD, Windows 7 Starter, Bluetooth 2.1, Wi-Fi (b/g/n), 0.3MP webcam and three USB ports.
Via Netbooked.
April 29, 2010 at 11:39 am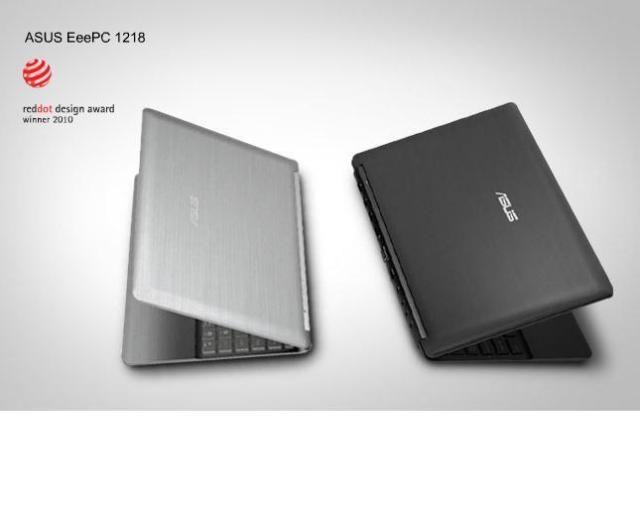 It looks like Asus weren't ready to announce news of a new netbook in its 12-inch series called the Eee PC 1218. To my eyes it looks like a 12-inch version of the desirable Eee PC 1018P.
AsusDesign has prematurely revealed that the netbook as a 2010 RedDot Award winner. The Eee PC 1015 and 1215 also won the award. The Eee PC 1218 appears to be clad in aluminium and comes with a chiclet keyboard, retractable webcam and ports located at the back. There's little other information for now, but let's hope it comes with next-generation ION graphics and would it be too much to ask for dual-Atom too? Check out a larger screencap after the break.
Update: Digitimes reports that the Eee PC 1218 will sport Nvidia ION graphics. Read more
April 26, 2010 at 7:52 pm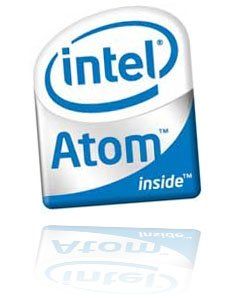 There's no doubting that Intel has a dual-core netbook Atom part on the horizon, especially given that Intel's chief recently confirmed the rumours. Digitimes is reporting that Intel will launch the dual-core Atom N500 Atom series in June along with releasing details on Intel's third Atom platform.
The Asus Eee PC 1215N will be one of the first dual-core Atom N500-powered netbooks when it launches early in the third quarter. It will also start to prepare the DDR3-enabled N455 and N475 Atom processors. These chips were seen running in the ASUS Eee PC 1018P, the company's new flagship 10-inch netbook. No release dates for these netbooks have been announced so far.
April 25, 2010 at 7:49 pm
The Asus Eee PC 1201NL is one of the many netbooks the company has using the 12-inch chassis. This particular model combines the 1.6GHz N270 Atom processor and original Nvidia ION LE chipset. It also includes 1GB RAM, 160GB HDD and Windows XP.
I haven't heard too much about this netbook since it was announced at CES in January. However, Indian site Techtree has reviewed the 1201NL and will be released in the country next month. Compared to the AMD-powered 1201T, the 1201NL offers HDMI, a higher capacity battery (63Wh vs 47Wh) and a slightly brighter screen. Their battery test yielded 3.5 hours of runtime.
Via Netbooked.
April 23, 2010 at 11:52 am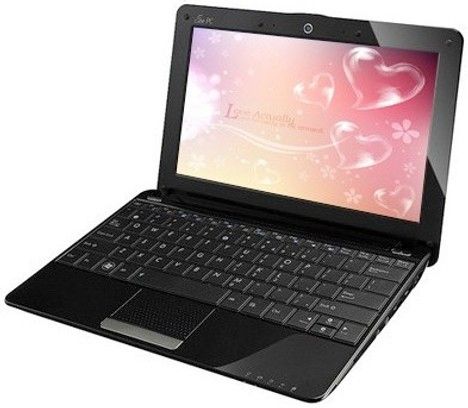 Following on from this morning's rumour that the 12-inch Asus Eee PC 1201PN will not feature Nvidia Optimus technology, despite running next-gen ION graphics, Blogeee is reporting on another Asus netbook that will include Optimus.
The Asus Eee PC 1215N netbook will come with Intel's new dual-core Atom netbook processor, next-generation ION and Optimus technology. It is expected to launch in July. No other specs are known at this time.
Update: Notebook Italia is also confirming the existence of the Eee PC 1215PN, although they say it will launch in June, rather than July. They also confirm the Optimus-less 1201PN and say it will launch in May.
April 23, 2010 at 10:49 am
I'd park this firmly in rumour territory for now, but Pierre from Blogeee is reporting that Asus' upcoming Eee PC 1201PN netbook that comes with ION 2, will not be sporting Nvidia's Optimus power-saving technology.
His source for this news is Nvidia France, who has suggested that next-generation ION graphics is not synonymous with Optimus technology. If true, this is completely against my understanding of the next-gen ION part. ION 2 was presented to us as having embedded Optimus technology. At no point was it suggested that it is a feature that a manufacturer may or may not include. Read more
April 22, 2010 at 10:07 am
The wait to see next-generation Nvidia ION graphics hit netbooks already feels like a long while. However, this wait is set to get longer if Engadget is to be believed. The 12-inch Asus Eee PC 1201PN with 16-core ION is now expected to hit Europe/Asia in late May and the US in June.
The 8-core ION Acer Aspire One 532G has also been delayed by a month is now expecting to appear in early June also. It's unknown what has caused this delay, although Nvidia claims it has nothing to do with them.
April 21, 2010 at 5:44 pm
The Asus Eee PC 1201PN will be the company's first netbook with next-generation ION when it launches shortly. It uses the same chassis as most other 12-inch netbooks in the Eee PC 1201 range, but differs from its current ION netbook (1201N) by offering a single-core N450 Atom processor as opposed to the dual-core 1.6GHz Atom 330.
For those wondering how the Eee PC 1201PN will perform then NotebookCheck has the answers. They've taken an exhaustive look at the performance of ION 2 and used the Eee PC 1201PN to do the benchmarks. Read more
April 20, 2010 at 10:55 am
Asus really knows how to design netbooks and the Eee PC 1018P is no exception. The aluminium-clad netbook is just 18mm thick and sports the latest USB 3.0 and Bluetooth 3.0 standards (optional) along with DDR3-packing N455/N475 processors.
The lucky guys over at TechInStyle.tv managed to get hold of the Eee PC 1018P and shot some pictures of it in the wild that you can check out after the break. The Eee PC 1018P was first announced at CeBIT and will come with a 10.1-inch (1024 x 600) display, up to 2GB RAM, 250GB-500GB HDD and Wi-Fi (b/g/n). No word on pricing or availability at this stage. Read more
April 19, 2010 at 8:29 pm
Two mysterious Asus Eee PC netbooks were spotted last week and these included the R101 and R105 models. Whilst nothing was revealed at the time, it looks like an Amazon.de listing has spilled the beans on the R101.
Two models are listed on Amazon Germany. The Eee PC R101 is your typical netbook fare with a 10.1-inch display, N450 Atom, 1GB RAM, 160GB HDD, Windows XP. This model is listed for €249. Read more
April 17, 2010 at 4:40 pm
A new Asus Eee PC 900 model passed through the FCC yesterday. The 900AX is likely to be an 8.9-inch model powered by an Intel Atom processor running either Windows XP or Linux. Given the age of this line of Asus netbooks I'd be surprised to see it turn up in Europe or the US, although there may be other regions that Asus is planning to target with this netbook.
A couple of new 12-inch model names were unearthed too. This includes the Asus Eee PC 1201K and 1201X. These models were spotted over on Asus' support pages. As to how different these are to the current 1201 range remains a mystery for now.
Via Wireless Goodness and EeePC.it.
April 16, 2010 at 5:50 pm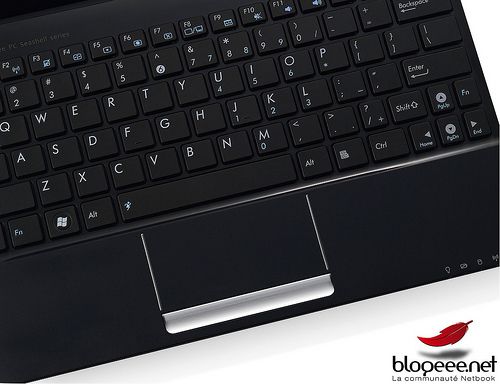 One of Asus' upcoming netbooks, the Eee PC 1015PE, was first spotted at CeBIT. It's sleeker than the 1005PE offering a larger touchpad, a toggle switch for the webcam along with a matte display and lid.
Pierre from Blogeee managed to get hold of some official press shots of the 1015PE and it's looking like a nice update. I especially like the chrome effect used on the sides of the touchpad. Check out Blogeee for the full gallery.