December 19, 2009 at 1:00 pm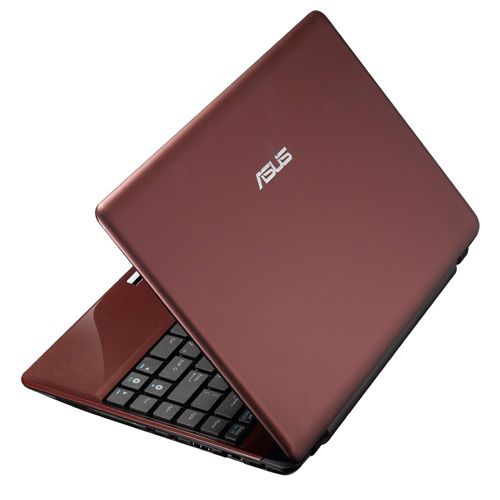 Asus has a number of 12.1-inch models in its netbook range, the vanilla 1201HA, the ION 1201N and also the AMD-powered 1201T. The Asus Eee PC 1201T has now gone official with its own product page on the Asus site.
The specs confirm what we had heard previously and unfortunately this particular model lacks a HDMI port. You do get a netbook powered by a 1.6GHz AMD Congo MV40 processor, 2GB Ram and 250GB HDD though, with a 6-cell battery rated to last for six hours. Check out the full specs after the break. Read more
December 9, 2009 at 7:58 pm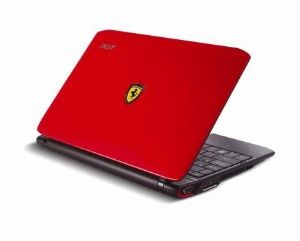 The Acer Ferrari One ultra-portable is now shipping in the United States with prices starting at $599.99
. This 11.6-inch netbook is powered by AMD's new 1.2GHz dual-core Congo processor as well as ATI Radeon 3200 graphics.
The Ferrari influence is felt via the 'Ferrari-red' lid and checkered palm rest. There are also tire-shape grips underneath the chassis, racing-inspired wallpaper and calendar, as well as a quick access key to Ferrari.com. Other features include Windows 7 Home Premium, a 250GB hard drive and a built-in optical drive. Check out the full list of specifications after the cut. Read more
November 29, 2009 at 11:49 am
Details of the Asus Eee PC 1201T have emerged. We already knew of such a model number, when the manual for the 1201HA and ION-powered 1201N made an appearance. However, we didn't know what kind of specifications it would sport. All we knew was that it lacked the HDMI port seen on the 1201N and had only two USB ports.
The Asus Eee PC 1201T was launched at a Chinese press event yesterday, lifting the lid on the 1201T spec-sheet. We now know that it will be powered by the 1.6GHz dual-core AMD Congo MV40 processor. It will come with 2GB DDR2 RAM and a 250GB HDD. Read more
November 27, 2009 at 5:50 pm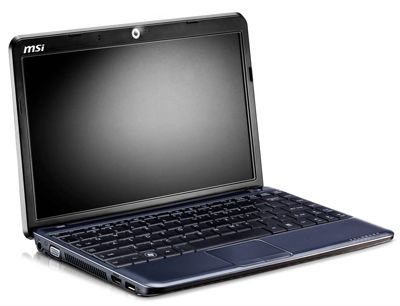 Details of the 12.1-inch MSI Wind12 U230 ultra-thin already popped up on its official website at the end of last month although the product page was pulled shortly after. MSI has now officially unveiled the Wind12 U230. The model is similar to the U200/U210 models, but comes with Windows 7 and is powered by AMD's new Congo 1.6GHz dual-core processor.
The company claims that AMD's new platform consumes 60 percent less power than standard notebooks and offers 4-hours of battery life. It also comes with the AMD RS780MN and SB710 chipsets that support HD and DX10 and ATI Radeon HD 3200 graphics. Read more
November 19, 2009 at 10:25 am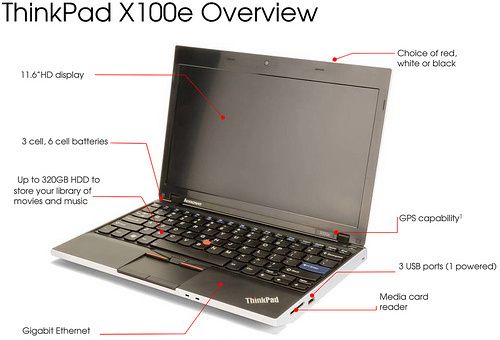 New details surrounding the rumoured Lenovo Thinkpad X100e have been leaked by German news site Chip.de. There is a whole host of new information including specifications and other marketing material. The leak suggests that the X100e will come with an 11.6-inch (1366 x 768) display and AMD Athlon Neo MV-40 processor.
This ultra-thin will support up to 4GB of RAM and comes with 160/250/320GB storage options. As you would expect for a ThinkPad, you'll get Trackpoint navigation along with a multi-touch touchpad. Other features include Wi-Fi (b/g/n), optional 3G, three USB ports, 4-in-1 card reader and a 0.3MP webcam.
It will come with both 3-cell and 6-cell batteries, with the latter quoted to last for just over 5 hours. Unusually for a Thinkpad, it will also come in white and red colours and have a chiclet keyboard. No release date has been given, although the previous rumour suggested that this will launch at CES in January. It is expected to launch with prices starting from $449. We'll keep you updated with further developments. Click through for some X100e slides. Read more
November 12, 2009 at 11:50 am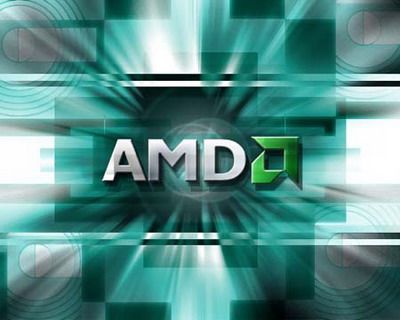 AMD yesterday held an analyst investor day and outlined its product roadmaps through to 2011 for its different product lines including desktops, notebooks and servers. It introduced two new processor cores codenamed Bulldozer and Bobcat for release in 2011.
Bulldozer is designed for desktops & servers, whilst Bobcat will mainly be aimed at ultra-thin notebooks. Interestingly, Bobcat will also see processors targeted to the netbook segment for the first time.
AMD made some bold claims about Bobcat, saying that it will provide 90 percent of today's performance in less than half of the current silicon real estate. This means it is incredibly power efficient, requiring less than a watt of power. Read more
October 30, 2009 at 6:29 pm
MSI has quietly launched a new 12.1-inch netbook on its official website. The MSI Wind12 U230 follows on from the U200/U210 models, with a 12.1-inch (1366 x 768) display powered by an AMD Athlon Neo X2 (Yukon CPU MV40/ L335) dual-core processor. Graphics will be catered for by the ATI Radeon HD 3200 and it will come with Windows 7 Home Premium.
Other features include up to 4GB RAM, 160-320GB HDD, HDMI, 1.3MP webcam, Wi-Fi (b/g/n), 4-in-1 card reader, three USB ports and optional Bluetooth. Battery life on the 6-cell battery should be good for around 4 hours. At this point there's little information on pricing or availability, but we'll keep you posted.
Via Netbooked.
September 11, 2009 at 10:17 am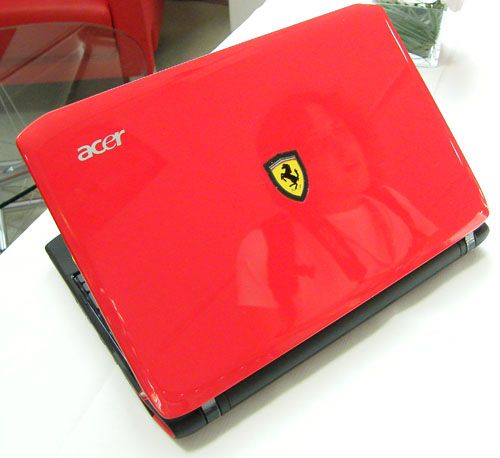 Marrying supercar brands with personal computing has existed for a while. Asus has produced Lamborghini-branded laptops, whilst Acer has done the same with Ferrari. Now Acer is trying to race ahead of the netbook pack, by launching the Acer Ferrari One.
This 11.6-inch (1366 x 768) netbook is quite different to your typical netbook. Firstly, it is powered by AMD's recently announced Congo platform. The AMD Athlon X2 L310 is dual-core offering at 1.2GHz clock speed and 1MB cache. It uses the M780G chipset and ATI Radeon 3200 graphics. The latter is certainly quite powerful (in netbook terms), enabling hardware acceleration of HD video. Read more
July 31, 2009 at 10:47 am
Since the netbook was conceived around two years ago, the size of these devices has got larger and larger. Some of the very latest netbook models to be released from the big guys include 11.6-inch and 12.1-inches. I'm sure this trend won't go away, despite Microsoft and Intel's best efforts to crack down on netbooks larger than 10-inches.
However, in China, white-box vendors are now looking to produce 'netbooks' that are even larger than 12-inches. To get around the restrictions that Intel places on netbook display sizes, it plans to use processors from AMD and VIA instead. The advantage is that VIA's platform costs nearly half as much as the Intel Atom.
Now what defines this as a netbook? Not much in all honesty, but there is rising demand for these larger netbooks and therefore these products are being marketed as such rather than the laptops that they really are. Let's just hope this doesn't catch on.
Via Digitimes.
We first heard of the Medion Akoya Mini E1312 netbook during the recent Computex show in Taiwan. This model differs from other netbooks on several fronts. It has an 11.6-inch high-res (1366 x 768) display powered by an AMD 1.5Ghz Sempron 210U CPU, M690E chipset and ATI Radeon Xpress 1250 graphics. It also comes with a 6-cell battery as standard (9-cell optional) and a HDMI-out port.
Other features include 1GB RAM, 160GB HDD, three USB ports, 3-in-1 card reader, Wi-Fi (including draft-N), a 1.3MP webcam and Bluetooth 2.1. The 2200mAh rated battery should last for a little over 3 hours. We now know that the E1312 will be released across Aldi supermarket stores from 12th July in the UK for a very reasonable £339.99, which includes a three-year warranty and Windows XP Home. If you are interested you'd better get to Aldi early on Sunday morning as these Medion products are normally quite sought over.
AMD is planning to release a new integrated chipset codenamed RS880 targeting low-end systems such as netbooks according to The Inquirer. This chip will come with the ATi Radeon HD4200 graphics core that is 15 percent faster than anything on the market right now.
I assume this statistic also takes into account Nvidia's 9400M/ION GPU. After all, it is Nvidia's ION platform that AMD is targeting here. It also supports AMD's Stream general-purpose computing technology and, by extension, would eventually support OpenCL. A first glimpse of these new chipset should emerge in August and it is set to include DX10.1. This would mean a launch ahead of the rumoured ION 2 chipset from Nvidia by the end of the year.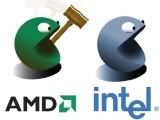 Intel has had the netbook processor market pretty much all to itself up until now. However, AMD CEO, Dirk Meyer, has revealed that the company is currently developing a platform to rival Intel Atom. To compete, he expects the AMD platform to be more power efficient and cheaper than Intel's Atom platform.
Samples of the new platform will not be released until 2010, so it will have to go head-to-head with Intel's next-gen platform called Pineview. Strangely though, Meyer confirmed that the platform will be targeted to notebooks only and NOT netbooks. He once again talked about the 'netbook' term disappearing over time. Read more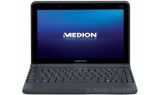 Medion had a few mini-notebooks on display at Computex this past week. It was showing off three 11.6-inch models that were powered by the AMD Sempron CPU. Medion introduced the Medion Akoya E1311, E1312 and 3G-equipped E1315. These mini-notebooks are powered by a 1.5GHz AMD Sempron 210U, M690E chipset and ATI Radeon Xpress 1250 graphics. Other specs include 1GB RAM, 160GB HDD, Bluetooth, 1.3MP webcam, Wi-Fi (draft-N), HDMI out and a 2200mAh battery.
I'm not too sure what the difference between the low-end E1311 and E1312 models are. My guess would be that the E1312 also comes with an Expresscard slot, which I don't think exists on the E1311. Both come with a keyboard with flat keys and a glossy display. The models aren't that light, weighing 1.5kg with the price estimated to be around the €400 mark (for the cheapest model) when it releases in Europe shortly. Check out a couple of videos of the E1312 after the break, courtesy of NetbookNews. Read more
April 17, 2009 at 2:05 pm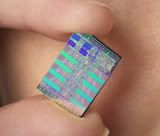 IBM along with an alliance of companies has announced a 28nm processor design for netbooks and smartphones and expects to begin 'early risk' production in 2010. The IBM Alliance consists of partners Chartered, GlobalFoundries (AMD's former chip-making unit), Infineon, Samsung and STMicroelectronics.
This news has quite a significant bearing for Intel, whose Atom processor is based on 45nm fabrication. Not only will these new chips from the IBM Alliance be smaller at 28nm but in doing so will be more energy efficient than Intel's Atom CPU. Read more
April 14, 2009 at 1:20 pm
Whilst Intel's Atom CPU is found in the majority of netbooks released to date, it is facing competition from other vendors who are looking to jump onto the netbook cash-cow. Apart from prospective ARM processors, AMD recently launched the Athlon Neo which is found in the 12-inch HP Pavilion dv2 and is meant to be a step-up from Intel Atom CPUs. VIA also launched the Nano chip, intended specifically for netbooks and has first been seen in the Samsung NC20.
Crave looked to try to compare these CPUs against each other, however it is not a precise comparison as they effectively benchmarked three different netbooks. Fighting Intel's corner was an Asus Eee PC 1000HE complete with 1.66GHz N280 Atom CPU. VIA's representative was the afore-mentioned Samsung NC20 with 1.3GHz Nano U2250 CPU. AMDs benchmarks were conducted by a HP Pavilion dv2, which came with an Athlon Neo 1.6GHz MV-40 processor.
Crave ran three different benchmarking tests and unsurprisingly there was no clear winner, with each CPU winning one test each. Intel's Atom was the fastest in the multi-tasking test, the VIA Nano won the iTunes encoding test while the AMD won the Jalbum photo-program test. Since this is not an apples-for-apples comparison I would take the results with a pinch of salt. Each netbooks configuration would affect the outcome and they each have different clock speeds. Check out the table after the break. Read more