August 26, 2009 at 11:42 pm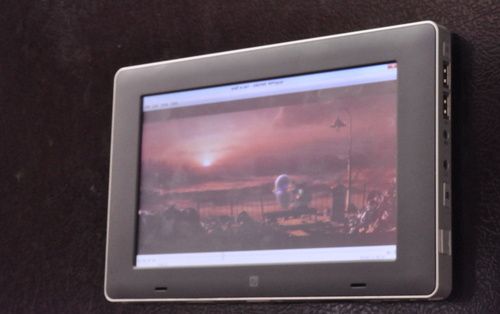 The Founder & CEO of Always Innovating, Gregoire Gentil, has taken matters into his own hands regarding showing exactly what his beloved Touch Book is capable of. He has shot a couple of videos of the Touch Book in action, showing off the device in both netbook/tablet form-factors as well as the touch UI. He also has another video, highlighting how you can attach it to the fridge!
The update on its site also openly admits that users who currently have units are 'beta testers' of the Touch Book and paying for that privilege. These 'beta' units will continue to ship in the coming weeks. The company is currently still fulfilling pre-orders and this is not expected to change until October. Check out the videos after the break. Read more
August 20, 2009 at 4:05 pm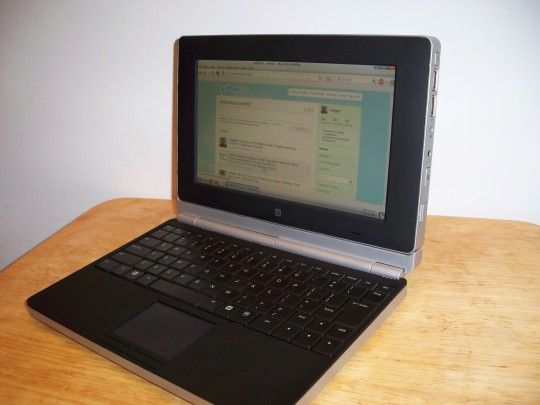 The Linux-based Touch Book device from Always Innovating has started to land in the hands of customers. First impressions appear to be mixed with some criticism over the way the Touch Book is balanced when in its keyboard dock. The display's weight seems to tip the whole unit over easily.
"It can't go past more than a few degrees and it goes over when connected to keyboard," said twitter user Stephen Feger. Contents seem minimal too. " This is too funny. There's no manual, nothing. TouchBook (TB), stylus, AC adapter and some magnet. Little odd honestly," Feger said.
Another site has some full unboxing pictures that show the Touch Book can be placed quite comfortably on a fridge, thanks to some powerful magnets.
Via JKKMobile.
August 17, 2009 at 12:09 pm
The first screenshots of Always Innovating's Touch Book operating system have been unveiled on the official website. The Touch Book uses a custom Linux distro, although you are able to install your own if you want to. To be honest, the efforts do not seem that inspiring but the custom work has been optimised for the touchscreen display.
The founder has previously claimed that this OS instantly boots up. It also uses the Fennec browser from Mozilla to take advantage of touch. The company is currently shipping out units to a large backlog of pre-orders. Check out some more screenshots after the break. Read more
August 2, 2009 at 7:56 pm
Always Innovating's Touch Book device has now started to ship according to the official website. However, as the company has a large backlog of orders, the first shipments are being dedicated to fulfil these pre-orders.
"As an early-stage start-up, it will take us several weeks to fill every order. Nevertheless, we are increasing our production capability to ship pre-orders as quickly as possible," read the statement on the website.
The Touch Book is a very unique device. It is basically an 8.9-inch tablet that comes with a sliding keyboard dock so that it can be used in a more traditional netbook form-factor. The tablet is also magnetic so that it can be mounted on a fridge and the unit also supports internal USB slots so no more dongle mess. It is based on an ARM processor (TI OMAP3530 CPU) and is therefore a fanless system with a battery life of between 10-15 hours.
Via Engadget.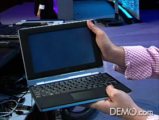 Always Innovating's Touch Book device is due to start shipping to customers this month. Up until now, we have not been privy to any videos of the device in action. A video has now emerged that's a few months old, from a conference called Demo. However, it does a good job of showing exactly what the Touch Book is and why it's different to your average netbook.
The Touch Book is one of the first devices that is effectively a tablet with dockable keyboard. This means it can be used in a traditional netbook form-factor as well as a tablet. It is based on an ARM processor (TI OMAP3530 CPU) and is therefore a fanless system with a battery life of between 10-15 hours. Read more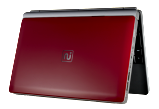 Always Innovating's unique Touch Book tablet has moved beyond the concept stage and has finally entered production. The 8.9-inch tablet has a sliding keyboard dock so that it can be used in a more traditional netbook form-factor. The company has also shown off photos of the very first unit.
The Touch Book is powered by a Texas Instruments OMAP3530 processor, 512MB RAM and 8GB flash storage. It also includes Wi-Fi (b/g/n), Bluetooth and two external USB ports. As it is using a power efficient ARM processor, battery life is expected to last 10-15 hours.
The first shipment is expected to arrive in July 2009. Pre-orders for the Touch Book tablet cost $299, if you want the keyboard docking device then that will set you back another $100. For those in the UK and Europe that are interested in the device, Always Innovating is now accepting international orders following huge demand. However, just so that you're aware, you'll be stuck with a US keyboard and US plug.
Via Engadget.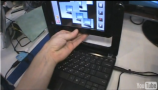 Taiwan's Institute for Information Industry (III) showed off a very intriguing device at Computex this week. In a form factor that reminded me of Always Innovating's Touch Book, the Mtube II is a netbook that has a detachable keyboard, which means it can also be used as a tablet device. However, by taking this concept one step-further, the Mtube II runs two different operating systems – Windows XP in netbook mode and switching to Android when in tablet mode.
It seems that the device has two processors, the old 1.6GHz VIA C7-M CPU for netbook mode and a 533MHz Samsung ARM processor when running Android in tablet mode. Thankfully the model has a matte display, which should hopefully mean less fingerprint marks. The tablet connects to the netbook by VNC (remote control) so video performance probably won't be up to scratch. Battery life in tablet mode is around two hours.
This model is only a prototype and a final retail version is unlikely to be out until next year and as you can imagine there's no idea on price right now. We're very much looking forward to seeing more devices sporting this form-factor in the future. Check out three videos of this device in action after the break. Read more
April 16, 2009 at 3:24 pm
Taiwan-based manufacturer, Aware, has showcased the A-View netbook at the Global Sources fair in Hong Kong. The A-View looks very similar in concept to Always Innovating's Touch Book, with its detachable keyboard transforming it from netbook to tablet.
However, unlike the 9-inch screen found on the Touch Book, the A-View has only a 7-inch display. It will come with 8GB of flash storage and 512MB RAM. The most interesting thing seems to be the price which is quoted at an equivalent of $150. The report from Digitimes claims that the system is already available in Europe, although on checking a few of the big e-tailers we couldn't find it listed. If it retails for anywhere close to that in Europe I'd be surprised although we'll be keeping our eyes open.
Via Gadget Mix.
April 15, 2009 at 12:45 pm
Back in early March, Always Innovating announced a unique portable device called the Touch Book. It is unique in a number of ways, first of all it is designed as an 8.9-inch tablet with a sliding keyboard dock so that it can be used in a more traditional netbook form-factor. The tablet is also magnetic so that it can be mounted on a fridge and the unit also supports internal USB slots so no more dongle mess.
This unique 'netbook' will also be one of the first to come with an ARM processor (using the Texas Instruments OMAP3 chip) whilst the OS is built from OpenEmbedded, a Linux variant. ARM processors promise increased power efficiency over their x86 equivalents and this can be seen in the quoted 10-15 hours of battery life. It offers all of this in a package that weighs less than 2lbs (0.9kg), including both battery and keyboard!
It will only come with 8GB of flash storage but despite this it is certainly one of the most interesting developments due this year in our eyes. According to the official site, pre-orders are now open and will set you back $299 for the tablet or $399 which will include the keyboard dock. Personally, I think it would have made sense to sell this as 1 SKU as the keyboard dock is part of the experience. However, by splitting the price, it means it may make this within the reach of those who are just after a tablet experience. Click through for a full list of specifications. Read more
March 10, 2009 at 2:43 pm
Gigabyte's upcoming net tablet, the Touch Note M1028, has passed through the FCC. This highlights a strong possibility of the M1028 being sold in the US as the FCC is normally a pre-cursor before a device goes on sale there. Interestingly all of the FCC documentation refers to the M1028 as the 'CafeBook' rather than the 'TouchNote' nickname with which it was paraded about last week at CeBIT. Also, it looks like Windows Vista will be offered as an option as well as an optional high resolution 8.9-inch screen at 1280 x 768.
Apart from that there is little new information, although an English manual was found on the FCC listing page. This page also shows a number of photos of the M1028's internals and where all of the ports are to be located. The TouchNote M1028 has a 10.1-inch swivelling touchscreen display and is powered by a 1.66GHz Intel Atom N280 CPU. The M1028 will have a 160GB hard-drive, 1GB of DDR2 memory (2GB maximum) and the Intel 945GSE graphics chipset.
Via Netbook3G.

EETI (Egalax_empia Technology), the Taiwan-based touch-panel supplier, will start shipping 7 and 12-inch capacitive touch panels in the second half of this year, according to its company president Mei Tsai. We are already starting to see a number of netbooks using touchscreen panels including the Asus Eee PC T91GO, the Touch Book from Always Innovating and Gigabyte's TouchNote M1028 which was unveiled yesterday. However, the touch-panel technology currently used is resistive. The move to capacitive panels will allow multitouch gestures (such as 'pinching').
My guess is that we're unlikely to start to see any netbooks with capacitive screens until the end of the year, maybe tied in with the launch of Windows 7. Microsoft has spoken of multitouch, being one of the unique selling points of Windows 7. It is likely to be the more premium netbooks that sport these panels at first, but what better way than to tie in with the Windows 7 launch. We'll keep you posted.