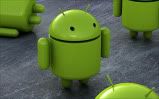 Smartbook devices are set to become much more commonplace as we reach the end of the year. They run on ARM-based processors and as such feature integrated 3G, GPS, Wi-Fi and Bluetooth on the chip itself. They differ from netbooks in that they are 'always connected' to the Internet and are meant to have battery lives lasting between 8 to 10 hours.
As they these chips are not x86, it means running Windows XP, Vista or Windows 7 is not an option. What manufacturers will be able to choose from is a growing stable of netbook-centric Linux distributions (including Android) or Windows CE. Some Gartner analysts have given their own thoughts after checking out a number of smartbook devices running Google's Android operating system at Computex. Read more
June 13, 2009 at 11:35 pm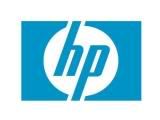 The smartbook term has quickly caught on, despite only being conceived a matter of weeks ago. It refers to a new breed of ultraportables powered by ARM-based chips that are always connected to the internet and have long battery lives. We saw a number of smartbooks at Computex but most were from ODMs, apart from a Snapdragon-powered Eee PC.
Now, according to Collins Stewart analyst Ashok Kumar, Hewlett-Packard is looking to launch a smartbook later this year powered by the Qualcomm Snapdragon chip. The report claims that this will be manufactured by Foxconn Electronics. In response to this rumour, HP told TheStreet.com: "We don't comment on rumours or products that may or may not be under way."
If true, HP would be the first major vendor to embrace smartbooks. This segment could become very big and may become a thorn in Intel's side. I can't see these big players selling smartbooks exclusively, but they may start to cannibalise netbook sales just as netbooks did to laptops. My view is that smartbooks will be offered more by telecom operators on subsidised contracts, rather than sold directly to the end-consumer. Despite this I can't see Intel being happy by such a move and it would be interesting to see how they respond.
Via Liliputing.
June 10, 2009 at 11:16 pm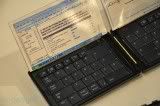 We reported on the DragonFly cross-folding concept design just yesterday and it looks like Engadget has already gone hands-on with a mock-up device in the flesh. If you remember, this concept is based on a double-folding design that supposedly transforms a fully-functioning netbook into a device small enough to fit in your pocket.
Their impressions weren't convincing, feeling that it will need the backing of a bigger organisation to pull the concept off. Developer, Edward Bullister, plans to stick a Moorestown chip inside the device and has the idea that it will dual-boot Windows XP and Moblin. He has some very ambitious plans (and timelines) for the device, hoping that it will be ready to ship by the end of this year!
As with some of the smartbooks we saw at Computex, he says that the device will have an "all day" battery life. There is no working prototype of the model so far and no manufacturer lined up as things stand. My guess is that we'll be waiting until the second half of next year at the earliest to see this particular concept in action.
Update: Liliputing has a video of the concept in action. Check it out after the break. Read more
Acer is currently working on its third-generation of netbooks, which will be released by the third quarter 2010 according to Digitimes. The interesting part of the report is that Campbell Kan, VP of Acer's mobile computing business unit, says that these netbooks will feature "strong network connectivity and convenience" citing MIDs and smartbooks as an influence.
Smartbooks may start to steal the upper hand from netbooks given their 'always connected' status and long battery lives. Acer recognises this and it is possible that we may see this third-gen using an ARM-based processor.
The product roadmap and time line has me slightly confused. Our last related story, talked of a third-generation of Acer netbooks (featuring a touchscreen panel) would launch by the end of the year, with a fourth generation due in 2010. Hopefully, there will be a bit more clarity on this in due course.
Whilst the smartbook category is still very new, that hasn't stopped Freescale Semiconductors to team up with the Savannah College of Art and Design (SCAD) to come with some real 'out-of-the-box' ideas on what the future smartbook concepts may look like.
Smartbooks are based on ARM chips and have been introduced to fill a gap between smartphone and notebook products. Typically, they will be an always connected device via 3G, have instant-on functionality and have much longer battery life than your typical netbook. Freescale has its own ARM-designed chip in the form of the i.MX515.
"This initiative has given Freescale valuable insight into how end-users prefer to interact with smartbooks, and this knowledge will be fed back into our chip design processes, ultimately resulting in future i.MX processors that enable compelling consumer experiences and entirely new classes of consumer devices," said Glen Burchers, Consumer Segment marketing director for Freescale.
A number of designs were shown including a modular smartbook as well as ones that feature sliding keypads, vertical displays and also one with leather-based casing. See all of the prototypes after the break. Read more
VIA demonstrated a number of netbook and smartbook devices at the Computex show in Taiwan. It appears that they had quite a big stand, with a wall of netbooks showcasing their processors and chipsets. Unfortunately, most of them are not destined to appear outside of Asia.
NetbookNews.de were on hand to see that VIA were displaying netbooks ranging in size from 8.9 to 11.6-inches. Most were either running VIA Nano or C7-M processors. Some were combined with the VX855 chipset that can handle 1080p video with CPU usage at around 20 percent. JKK Mobile was also at the booth and was shown some ARM-based designs from VIA, including the Firstview PC-706 smartbook. Click through for these VIA netbook and smartbook demonstrations.
Update: Another video below shows the Flybook 11.6-inch mini-notebook. This is powered by VIA's VX855 chipset, supporting 1080p HD video playback. This unit comes with an 11.6-inch (1366 x 768) display, VIA U1700 Nano CPU and Chrome9 graphics. Other features include 1GB RAM, a 4-in-1 card reader and three USB ports (no HDMI-out I'm afraid). It should be out in the next few months for around the $400 mark. Read more
Pegatron first showed off this very thin and lightweight smartbook back at CES in January. This particular model reappeared at Computex and NetbookNews.de managed to get hands-on with the unit. The 10-inch netbook was running on a Freescale IMX51 800MHz ARM-based CPU and Xandros Linux. The most notable aspects appear to be a very lightweight, fanless glossy model with 8 hours of battery life.
Storage is catered for by a 4GB SSD meaning that the weight doesn't creep above 800g. The Pegatron netbook includes a 4-in-1 card reader, USB 2.0 ports and a VGA out. As you would expect with an ARM-based chip, wireless connectivity includes 3G, GPS, Bluetooth and Wi-Fi.
Build quality was found to be good, despite some flex in the palm rest area. The keyboard had good feedback but only had a small right shift key. Interestingly, a second model (with the same hardware) was shown running the Movial OS, which I've not heard of before. It was similar to Asus' Easy Mode OS. There is no idea on cost right now, but hopefully it won't be too far off the Wistron N900z's predicted $200 price tag. Check out the video after the jump. Read more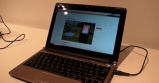 The smartbook moniker has only been created very recently, but judging by this year's Computex show, it is set to become a firm part of the portable gadget landscape. This time around it is ODM (Original Design Manufacturer) Compal's turn. They have demonstrated a smartbook device that is powered by a Qualcomm Snapdragon chip and running Google Android.
Asus has also shown an Eee PC running Android and powered by a Snapdragon chip, however it looks like they weren't ready to showcase this model themselves (the reveal was on the Qualcomm stand at the Computex show).
Compal has optimised the start-up interface and apparently further tweaks are on the way. The video shows just how quickly the internet browser loads pages. This smartbook is expected by the end of the year. Check out videos from TechVideoBlog and JKKMobile after the jump. Read more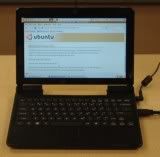 Computex has been a revelation for the new type of smartbook devices that have emerged. Whilst some may view these devices as underpowered, they will only get stronger as time goes on in our view. Freescale showcased some smartbooks of its own, including the 10-inch Wistron N900z.
The N900z uses an 800MHz Freescale ARM-based CPU, runs Ubuntu and has a 4GB flash drive. Battery life is very good at around 10 hours of life. Laptop Mag went hands-on with the bland-looking device. They liked the rubberised keys on the keyboard but found the touchpad to be unusable. Performance wasn't that great though, with some hiccups when trying to play a video whilst having two applications open. With the applications closed, the video played fine.
There is no timeline as to when this device might launch, but Freescale expects it to cost around the $200 mark when it does. NetbookNews also went hands-on with the device and we've attached a video of it after the break. Read more
Asus has given hints in the past that it was considering releasing an Eee PC powered by a Qualcomm Snapdragon chip (based on ARM). It has now shown off a prototype a day before the Computex show is set to officially start.
This smartbook (note: not netbook) has a fanless design given the very low power consumption. The prototype runs on a 1GHz Snapdragon chip and is capable of HD 720p video. The chip also has embedded 3G and GPS. This allows for an "always connected" experience, very similar to a mobile phone. Read more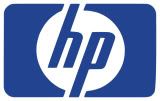 Whilst this shouldn't be too much of a surprise to many people, Hewlett-Packard is considering the use of ARM-based processors in upcoming netbooks. ARM processors from the likes of Qualcomm and Freescale are set to be used in smartbook devices from the end of this year and a number of manufacturers are considering its use in their netbook lines.
"We look at ARM quite a bit. The mini category is one that plays closely to ARM," said Todd Bradley who oversees the PC unit. ARM produces chip designs and then licenses them to other companies such as Qualcomm, Texas Instruments and Freescale. These chips are found in many mobile phones, iPods, video-game consoles and even cameras.
Companies such as Acer and Asustek are already rumoured to be working on Snapdragon products. Qualcomm hasn't said whether the products are netbooks or smaller mobile devices. I would imagine that HP are looking to compliment their existing lines with these new chips are perhaps to enter the smartbook segment themselves.
Qualcomm has formally announced that it will release a new class of gadget called smartbooks, which are powered using its Snapdragon chipset. As the name suggests, smartbooks will fit somewhere between the traditional netbook form-factor and a smartphone.
Qualcomm's 1GHz Snapdragon processor offers the brains and connectivity (both Wi-Fi and cellular 3G, not to mention GPS and Bluetooth) for a smartbook on a single chip, allowing for smaller devices. The device that will be always connected via 3G and boast significantly better battery times than seen in most netbooks. These devices will run Linux or a mobile operating system and last eight to 10 hours on a single battery charge. Whilst most netbooks include Wi-Fi connectivity, 3G or GPS integration is very much an option, if it exists at all. Read more