January 7, 2010 at 12:39 pm
HP is showing off a new concept smartbook over at CES in Las Vegas. The smartbook is powered by a 1GHz Qualcomm Snapdragon (QSD8250) chipset and is loaded up with the Android operating system. It also has a 10-inch resistive touchscreen display
As with other smartbooks it has 3G and WiFi for always-on connectivity. In terms of exterior, this is no Lenovo Skylight, not a surprise given it's a prototype. The chassis used looks almost the same as the current HP Mini netbooks. There are no other details for now, but check out some hands-on videos after the break. Read more
January 6, 2010 at 9:52 pm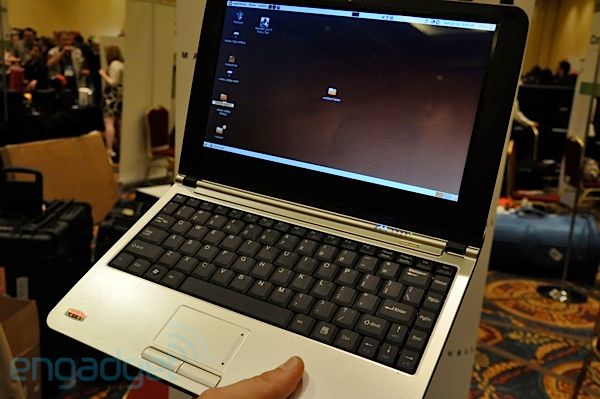 Marvell, the semiconductor company, is showing off a smartbook reference design that looks like it could turn a few heads if launched. The 12.1-inch device is powered by its Armada 510 processor with a V7 ARM core running up to 1.2-GHz and is one of the skinniest yet for such a screen size.
This smartbook is also solidly built according to reports. It comes with a full-sized keyboard and will have a 4-hour battery life. The talk is of a $200 price point for the device, which has been reached by lowering the rated battery used within. The smartbook being shown off runs Ubuntu and can play 1080p movies. It even has a mini-HDMI port to output video. Check out some hands-on videos after the break. Read more
January 6, 2010 at 8:54 pm
The Lenovo Skylight is one of the first smartbooks from one of the big notebook manufacturers to be announced. As a flag-bearer for the smartbook category it has a lot of pressure on it, but according to the first impressions coming out of CES, it looks like it's a mighty fine device. The Skylight runs the 1GHz Snapdragon processor and has a 10.1-inch HD display (click here for the rest of the specs).
Judging by the videos and write-ups I've seen, the Skylight looks like a very sexy piece of kit. It's one of the thinnest 10-inch devices I've seen and the display, keyboard and large touchpad all look of the highest quality. I especially like the slot just above the keyboard where you can store a USB flash drive.
One of the biggest negatives is nothing to do with the hardware itself, but that $499 price point. This will obviously be lower when subsidised through AT&T, but some people are miffed given the promise of $200 smartbooks. Click through for a video hands-on from Engadget, Laptop Mag and JKKMobile.
Update: We've also included videos from Liliputing (run through of the custom UI) and NetbookNews. Read more
January 5, 2010 at 9:17 am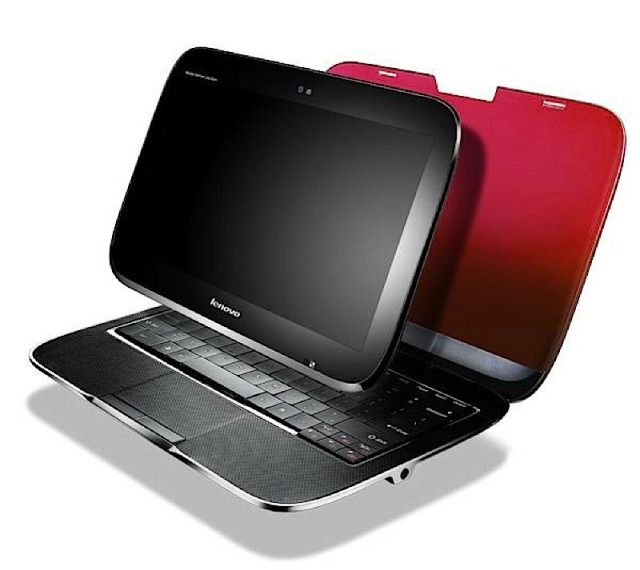 Lenovo has announced an interesting new form-factor that bears a similarity to Always Innovating's TouchBook. The Ideapad U1 Hybrid is effectively an 11.6-inch (1366 x 768) multi-touch tablet device that docks into a traditional laptop design. When paired the U1 runs off the Intel CULV processor and when in tablet mode, it is powered by a Qualcomm Snapdragon chipset.
The U1 Hybrid comes with 4GB RAM (512MB in tablet mode) and can support a 128GB SSD (16GB is used for the tablet). Other features include two USB ports, eSATA, VGA, HDMI, 4-in-1 card reader, and a 1.3MP webcam. The operating system is catered for by Windows 7 when using as a laptop and Lenovo's custom Linux OS in tablet mode (probably the same that will be used in the Lenovo Skylight smartbook). Read more
January 4, 2010 at 11:36 am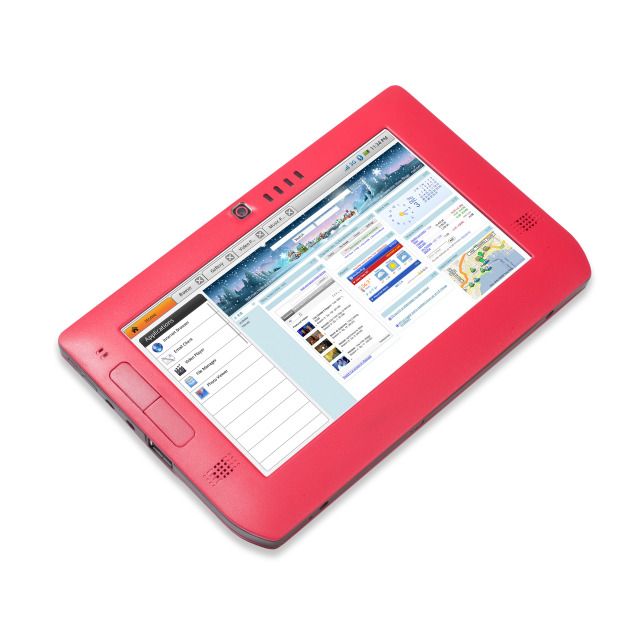 We expect to see a whole raft of smartbook devices at CES this week. Right on cue, Freescale has revealed a 7-inch (1024 x 600) tablet reference design that it is shopping to potential OEMs. The company hopes that its tablet design would be able to hit retail for less than $200 and could appear as soon as Summer 2010.
As with all smartbooks, the tablet is expected to be always-on and have an all-day battery life. In terms of specifics, the smartbook tablet is based on the i.MX515 processor, which incorporates the ARM Cortex A8 chip. It will also come with 512MB RAM and 4-64 GB of flash storage. Read more
January 3, 2010 at 1:33 pm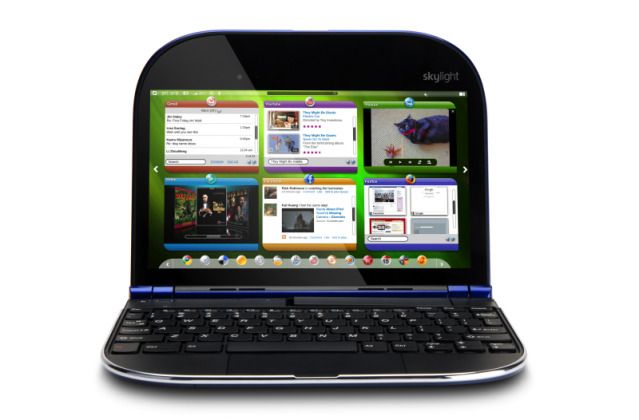 Lenovo is set to announce the Skylight smartbook at CES next week. The tipster who gave us a heads-up on the Ideapad S10-3t has given us the first details of the new smartbook.
The Lenovo Skylight is the company's first smartbook, powered by the ARM-based Qualcomm Snapdragon chipset. It will launch in the US in April, where one will be able to purchase the Skylight on a standalone basis through Lenovo.com for $499 or on a two-year AT&T 3G data contract. The Skylight will then be available in Europe and China later in 2010. Read more
December 28, 2009 at 9:24 pm
We have been waiting for the smartbook revolution to take hold for some time now. Well it looks like it will kick off in earnest from the first quarter of next year. According to President Kim Yung-sup of ARM Korea, "20 companies in the world are preparing for release of smart book. And we will see them from 1Q."
He went on to say: "Already one company finished development and is considering time of release. Considering local market which is led by window OS, smart book market will be led by overseas."
We expect to see the first details of the smartbook rollout at CES 2010, which is kicking off in a few weeks time. We are very much looking forward to seeing exactly what's on offer.
Via etnews.
November 28, 2009 at 6:20 pm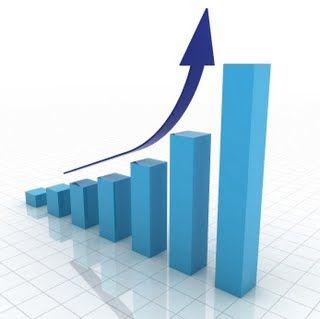 The definition of a netbook has changed somewhat since the first 7-inch Eee PC appeared just over two years ago. There has been a gradual trend upwards in display sizes, with 10-inch netbooks being the common standard. However, with 11.6-inch and 12.1-inch models released in the second half of this year, this segment is expected to get a big push from manufacturers in 2010 according to Digitimes.
This doesn't mean 10-inch netbooks will disappear, however manufacturers will position them as entry-level devices to compete against the emergence of ARM-based smartbooks. Models with touchscreen displays will be displayed towards the mid-range market, whilst the 12-inch models are expected to drive profits. Read more
November 19, 2009 at 4:57 pm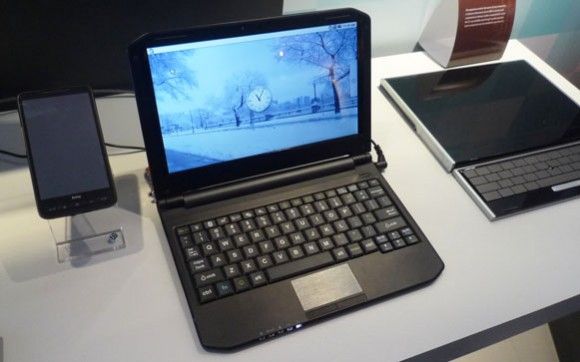 Qualcomm held a press event in London today, where it showed off different devices using its Snapdragon chipset. One of these was an Android smartbook from OEM Quanta. The fanless prototype is based on the Snapdragon chip and therefore very slimline.
The keyboard has been reconfigured to allow one-touch access to the homescreen, programs menu, applications and settings (such as 3G, Wi-Fi and Bluetooth). However, it did suffer from flex. Qualcomm confirmed that Lenovo's smartbook will be even thinner with curvier edges. Check out a hands-on video from Slashgear after the break. Read more
November 12, 2009 at 9:03 pm
As expected, Qualcomm's CEO, Paul Jacobs, revealed one of the first smartbooks expected to hit the market. The device was announced at a Qualcomm investor day in New York. Information on the new device is sparse, however what we do know is that the new smartbook will be powered by Qualcomm's Snapdragon chipset, manufactured by Lenovo and sold in the US through AT&T.
There is a crude image of the device lifted from the investor webcast that shows a red device with a homescreen split into six widgets. Jacobs said that the device was thinner than a Palm Pre and it certainly seems very thin. The device will also have full Flash 10.1 support and sport a high-resolution display. A formal launch is expected during CES in January 2010. Check out the first image of the device after the break. Read more
November 11, 2009 at 12:24 pm
Qualcomm is expected to announce its first smartbook device tomorrow (12th November) at an analyst meeting in New York. It is unknown whether this will be a prototype or whether it is the finished article and to be announced along with an OEM. For those that are interested the meeting starts at 10AM Eastern Time and you can listen to the meeting here.
Smartbooks are a new category of device that sports an ARM chipset and is always connected to the internet through a SoC (System on Chip) that combines 3G, wireless and GPS. The chips are also said to be highly energy efficient, which means long battery lives. Qualcomm says that 40 Qualcomm Snapdragon-powered products are in the works from 15 different manufacturers.
November 9, 2009 at 3:55 pm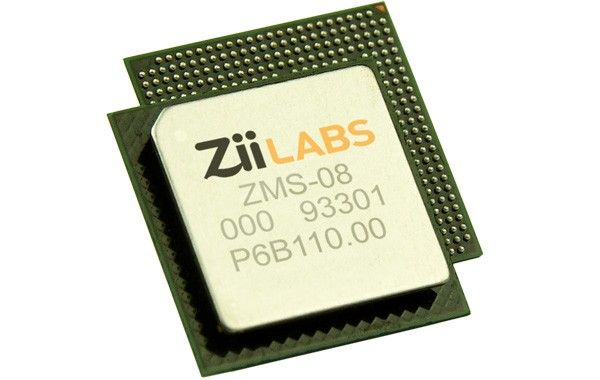 ZiiLABS, which is owned by Creative, has announced a new chipset based on a 1GHz ARM Cortex processor, capable of full 1080p HD video playback. The processor is expected to be used in smartbooks, tablets and home media hubs.
The ZMS-08 processor can deliver full 1080p H.264 video, accelerated OpenGL ES 2.0 3D graphics at up to 1 Gpixels/sec, Adobe Flash 10, image processing and advanced Xtreme Fidelity X-Fi Audio effects. The chip is aimed at low-power mobile devices. Read more
November 5, 2009 at 2:49 pm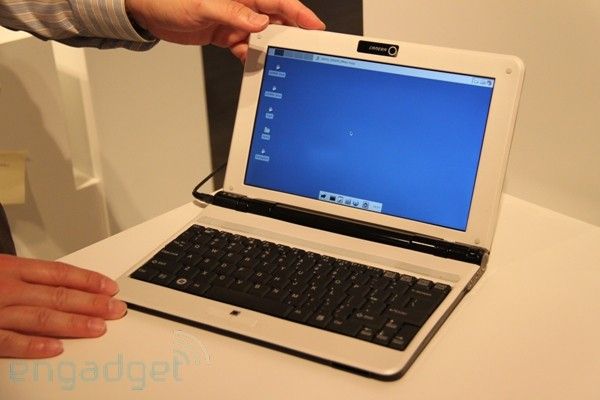 It was only last week that Asus were talking about launching a smartbook device to hit shelves in the first quarter of next year. However, the Asus smartbook will now be delayed until the second quarter of 2010 according to Judy Wu, Asus market specialist.
No reasons were given for the delay and there is no confirmation whether we'll even see the device hit UK shores. Asus says that the biggest market for these smartbook devices are in the emerging markets and Asia-Pacific region.
Wu's definition of a smartbook is a device that has a 5-7-inch screen, although she wouldn't define what processor would be included. The choice of operating system is still undecided, Wu says that "Android is an option", although it will depend on product schedules as to which is used.
Via Reg Hardware.
October 30, 2009 at 10:36 am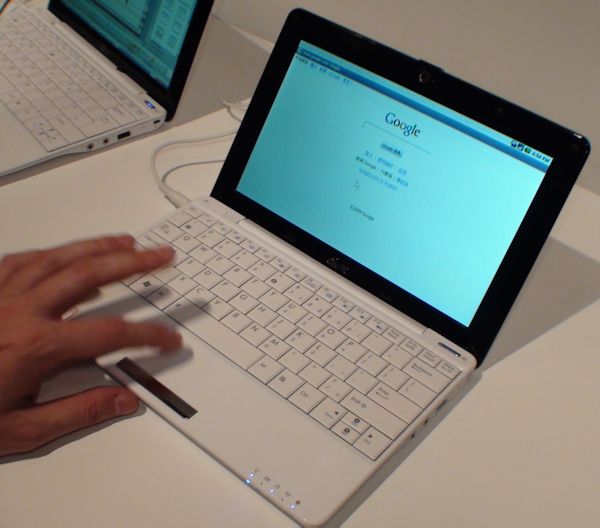 This is why you should never trust what a Chief Executive says. Asustek CEO, Jerry Shen, has apparently told an investor conference yesterday that it will be launching a smartbook device in the first quarter 2010. He even referred to smartbooks with such colorful language as a "secret weapon" that could take the company to a new "Eee PC-like peak"
However, it was only in late August when Shen had reportedly frozen development of smartbooks. "Currently, I still don't see a clear market for smartbooks," Shen said at the time. Obviously something has changed his mind in the intervening two months, looking at the contrast in sentiment.
Little detail is known about the Asus smartbook, although Shen said that pricing will be around the NTD 6,000 ($185, €125, £110) mark, before tax. It will also apparently be powered by a Qualcomm Snapdragon (ARM-designed) processor. We're still waiting for the hoard of smartbooks to launch this quarter, however despite this, it would take a foolish person to write off this interesting new category of device.
Via Shanzai.
October 14, 2009 at 8:16 pm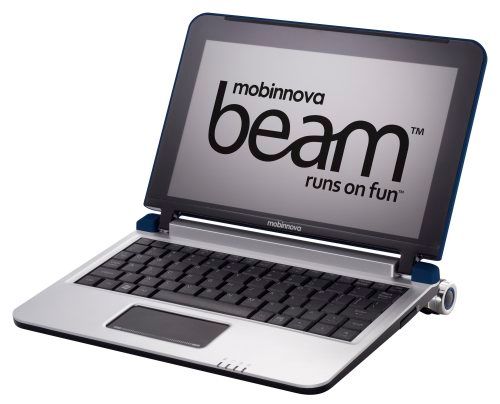 The Mobinnova élan smartbook, which debuted at Computex in June this year, has undergone a name change. The 8.9-inch Nvidia Tegra-based smartbook will now be known as the Mobinnova Beam according to Laptop Mag.
From what we can tell there are no new hardware revisions. The Mobinnova Beam is still expected to play 720p HD video content and have a long battery life (5-10 hours depending on activity). This is all wrapped up in a chassis weighing just 836g and measuring 20.5mm in thickness.
The device is expected to run the Windows CE operating system and be sold similarly to current subsidized netbooks on the market. The device was expected to ship by the end of this year, but that date has slipped. Launch pricing as well as the carrier is expected to be revealed in January 2010 at the CES trade show. One of the pricing plans is expected to be $60/month although there are no details on length of contract or any upfront fees. We'll bring you more news as we have it.